If you need help defining your life's mission, then these Stephen Covey quotes may help you figure things out.
As a best-selling non-fiction author, he was able to leave a legacy of leadership and success in the world.
Stephen Covey was recognized the most through his book, The Seven Habits of Highly Effective People, and this collection features 50 quotes from it as well as many others—focusing on lessons about habits, relationships, and perspectives.
Read the full list below.
And don't forget to check out these Robert Kiyosaki quotes.
Best Stephen Covey Quotes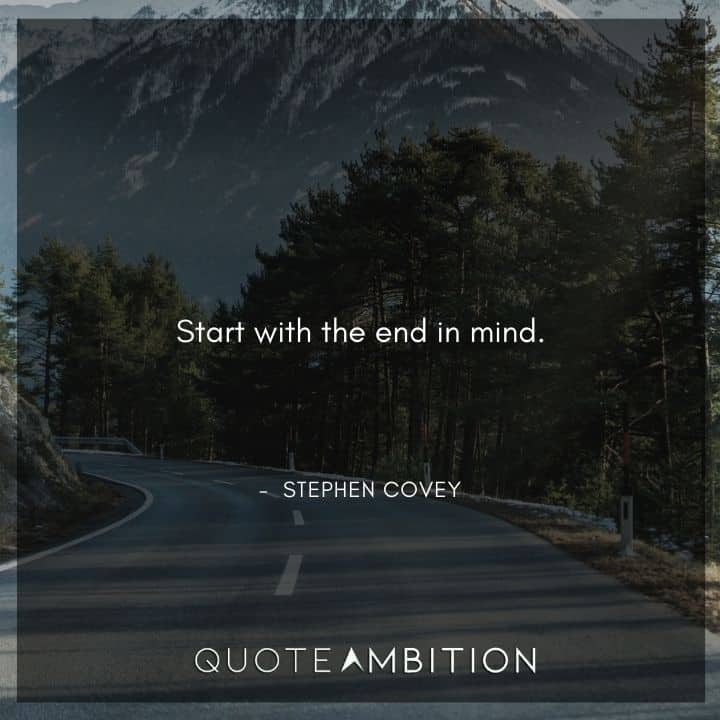 1. "Start with the end in mind."
2. "Treat a man as he is, and he will remain as he is. Treat a man as he can and should be, and he will become as he can and should be."
3. "You have to decide what your highest priorities are and have the courage—pleasantly, smilingly, unapologetically—to say 'no' to other things."
4. "Two people can see the same thing, disagree, and yet, both be right. It's not logical; it's psychological."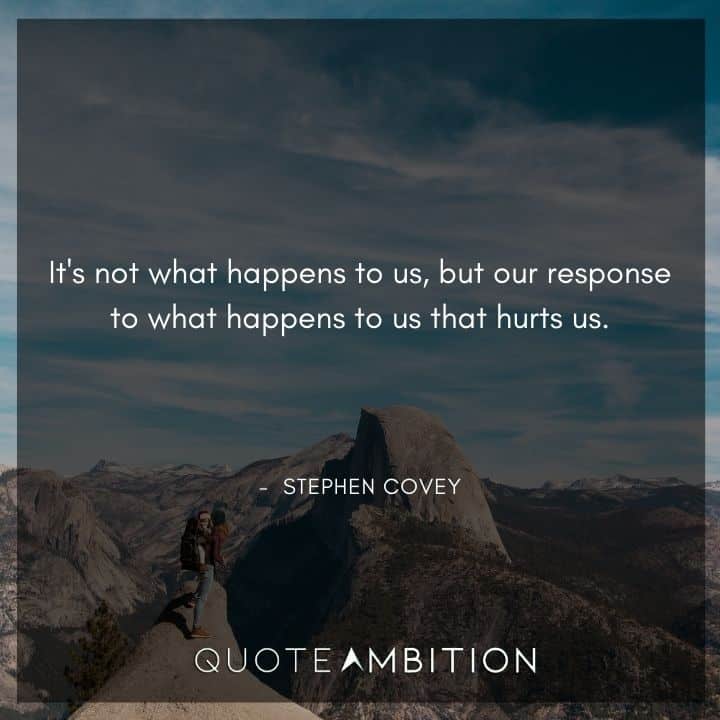 5. "It's not what happens to us, but our response to what happens to us that hurts us."
6. "I am what I am today because of the choices I made yesterday."
7. "Trust is the glue of life. It's the most essential ingredient in effective communication. It's the foundational principle that holds all relationships."
8. "Strength lies in differences, not in similarities."
9. "If I really want to improve my situation, I can work on the one thing over which I have control of—myself."
10. "Most people do not listen with the intent to understand; they listen with the intent to reply."
11. "To change ourselves effectively, we first had to change our perceptions."
Famous Stephen Covey Quotes
12. "I am not a product of my circumstances. I am a product of my decisions."
13. "Sow a thought, reap an action; sow an action, reap a habit; sow a habit, reap a character; sow a character, reap a destiny."
14. "The enemy of the best is often the good."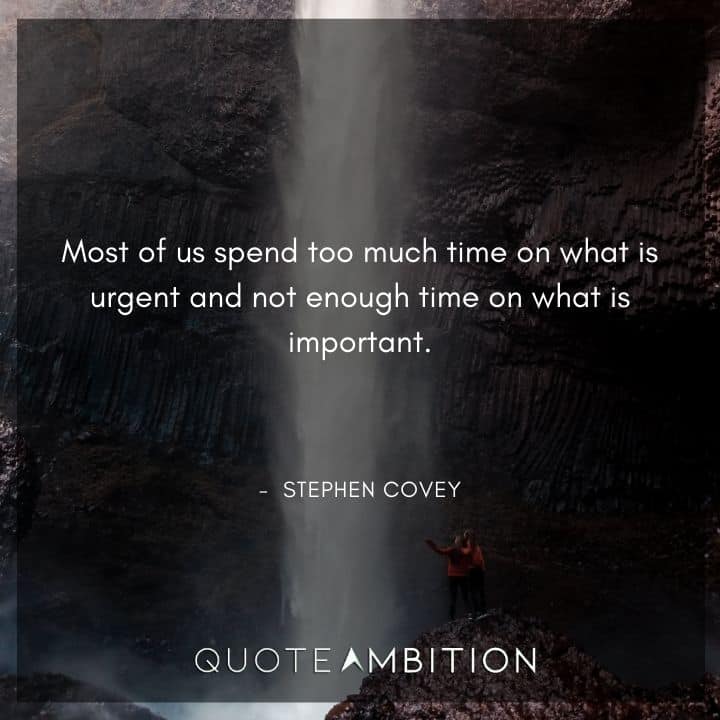 15. "Most of us spend too much time on what is urgent and not enough time on what is important."
16. "When the trust account is high, communication is easy, instant, and effective."
17. "We see the world, not as it is, but as we are – or as we are conditioned to see it."
18. "To touch the soul of another human being is to walk on holy ground."
19. "Seek first to understand, then to be understood."
Stephen Covey Quotes That Are Full of Wisdom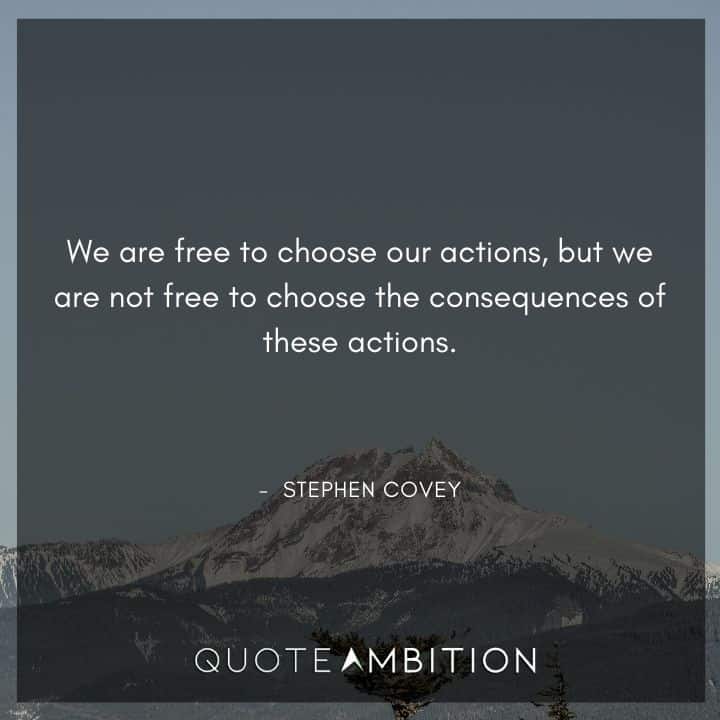 20. "We are free to choose our actions, but we are not free to choose the consequences of these actions."
21. "Habit is the intersection of knowledge, skill, and desire."
22. "To achieve goals you've never achieved before you need to start doing things you've never done before."
23. "Humility is the mother of all virtues because humility acknowledges that there are natural laws or principles that govern the universe."
24. "Wisdom is the child of integrity being integrated around principles."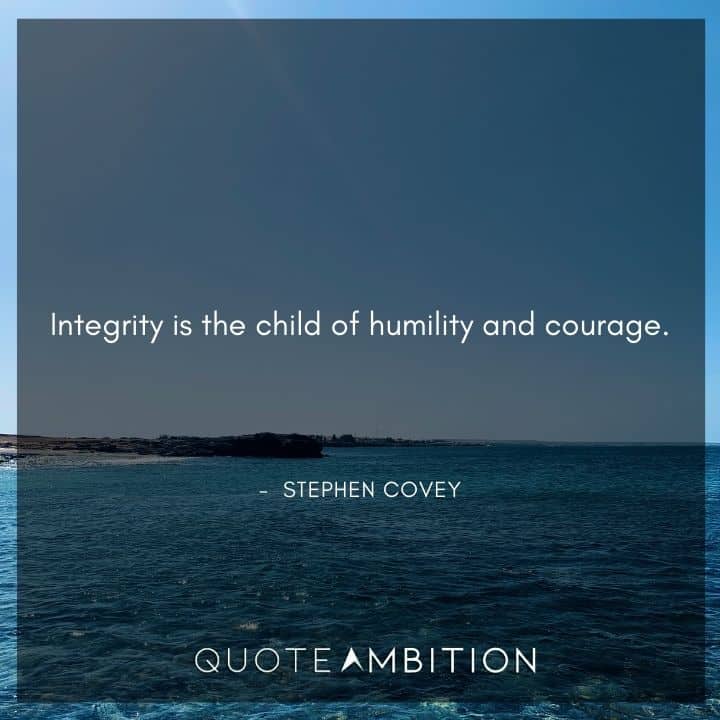 25. "Integrity is the child of humility and courage."
26. "Pride teaches us that we are in charge."
27. "Humility teaches us to understand and live by principles, because they ultimately govern the consequences of our actions."
28. "If humility is the mother, courage is the father of wisdom."
29. "People will forgive mistakes, because mistakes are usually of the mind—mistakes of judgment. But people will not easily forgive the mistakes of the heart—the ill intention, the bad motives, the prideful justifying cover-up of the first mistake."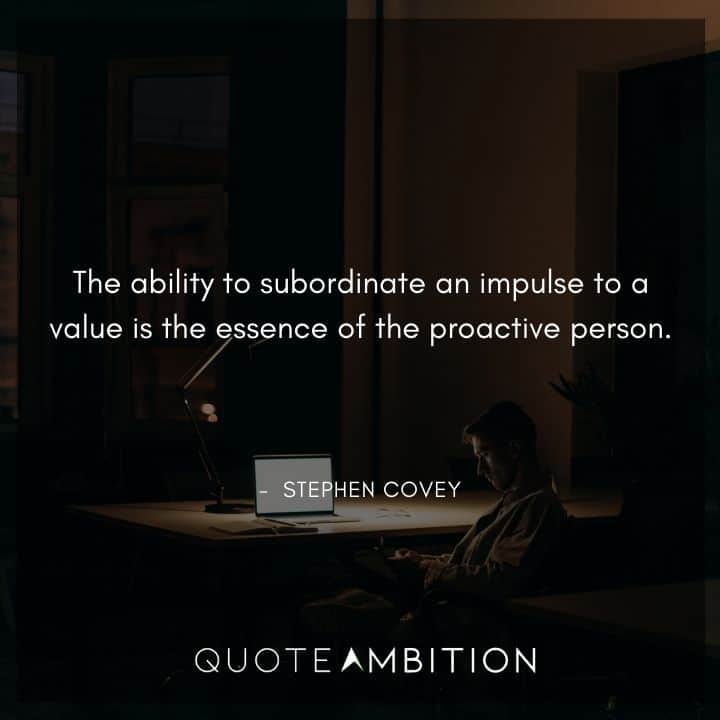 30. "The ability to subordinate an impulse to a value is the essence of the proactive person."
31. "Courage isn't absence of fear, it is the awareness that something else is important."
32. "There are three constants in life… change, choice and principles."
33. "Leadership is a choice, not a position."
34. "Independent will is our capacity to act."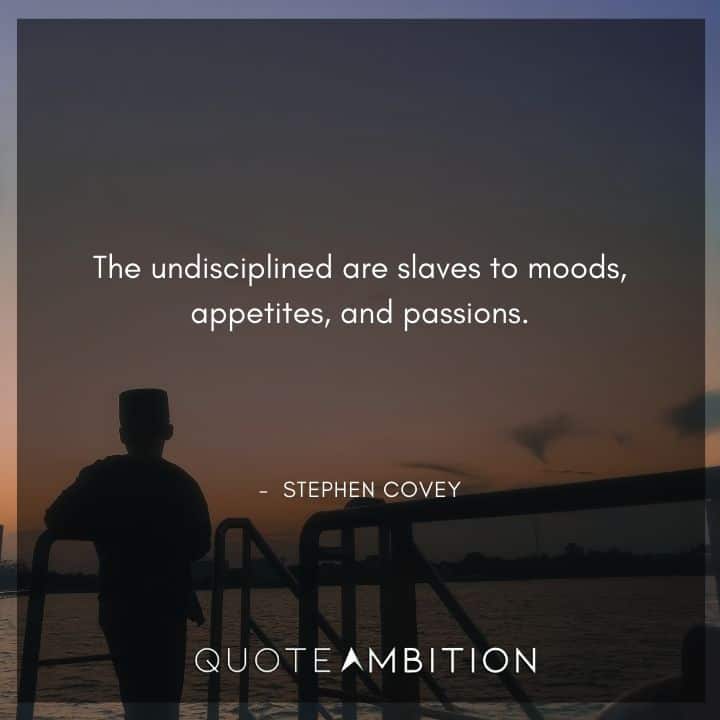 35. "The undisciplined are slaves to moods, appetites, and passions."
Stephen Covey Quotes to Make You Think
36. "Don't argue for other people's weaknesses. Don't argue for your own. When you make a mistake, admit it, correct it, and learn from it immediately."
37. "The core of any family is what is changeless—what is going to be there are shared vision and values."
38. "Be part of the solution, not part of the problem."
39. "Each of us guard a gate of change that can only be opened from the inside."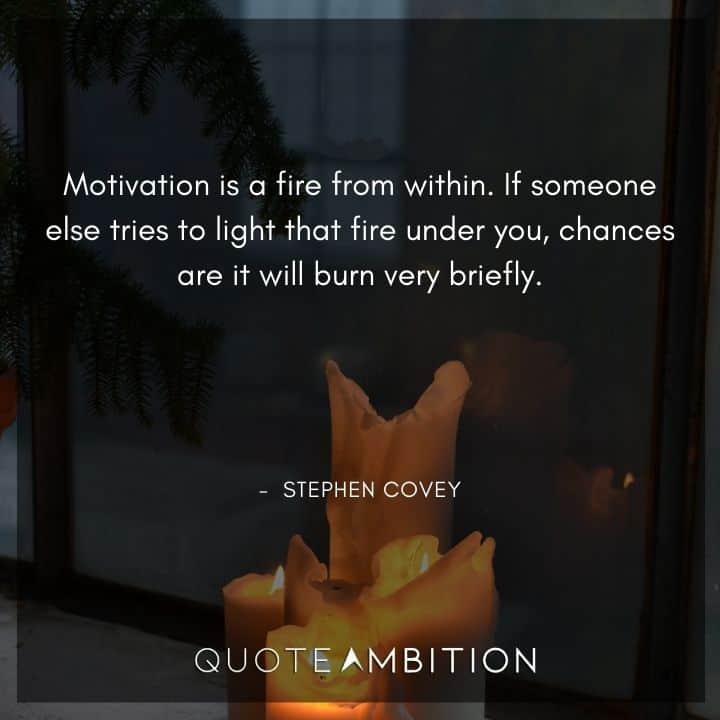 40. "Motivation is a fire from within. If someone else tries to light that fire under you, chances are it will burn very briefly."
41. "Self-awareness enables us to stand apart and examine even the way we see ourselves—our self-paradigm, the most fundamental paradigm of effectiveness."
42. "In the space between stimulus and how we respond, lies our freedom to choose."
43. "We may have limited choices, but we can always choose. We can choose our thoughts, emotions, moods, our words, our actions; we can choose our values and live by principles. It is the choice of acting or being acted upon."
44. "Our ultimate freedom is the right and power to decide how anybody or anything outside ourselves will affect us."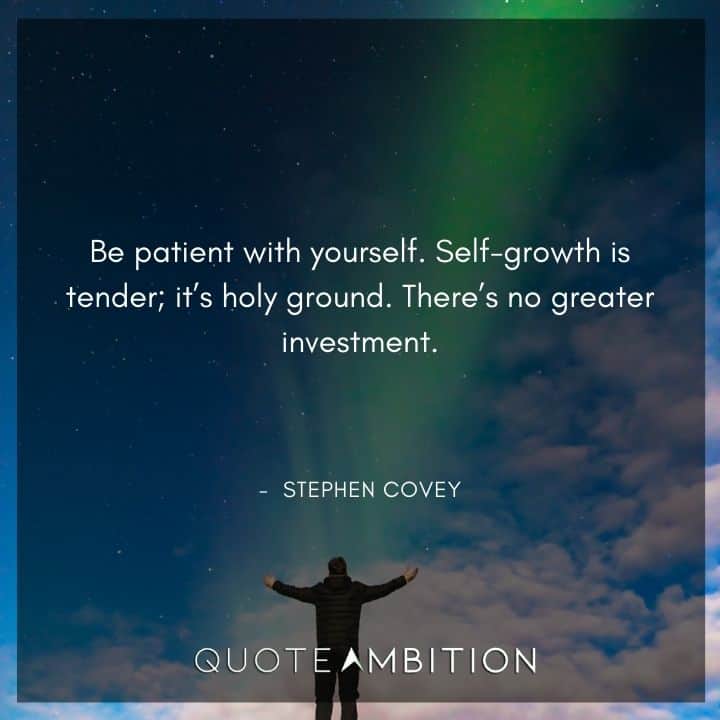 45. "Be patient with yourself. Self-growth is tender; it's holy ground. There's no greater investment."
46. "You can't change the fruit without changing the root."
47. "Be a light not a judge. Be a model not a choice. be part of the solution not part of the problem."
48. "Principles are the territory. Values are maps. When we value correct principles, we have truth—a knowledge of things as they are."
49. "Perhaps a sense of possessing needs to come before a sense of genuine sharing."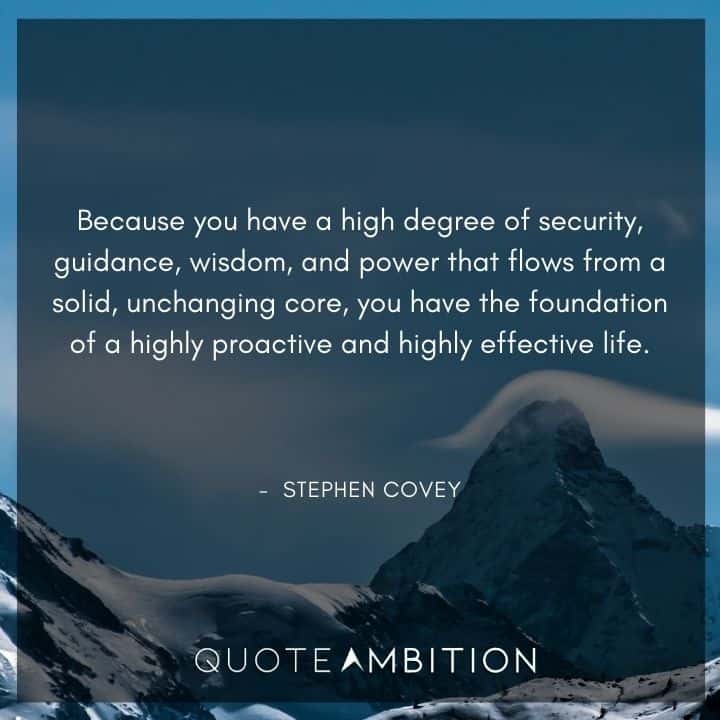 50. "Because you have a high degree of security, guidance, wisdom, and power that flows from a solid, unchanging core, you have the foundation of a highly proactive and highly effective life."
Did These Quotes From Stephen Covey Make You Want to Better Your Habits?
Reaching the top is never easy—one has to work hard for it. According to Stephen Covey, what's important is that we learn to work with others, have mastery over ourselves, and strive to have a sustainable lifestyle where we're able to recharge and refresh ourselves. Through these things, we'll be able to recognize the abundance we have in ourselves and in turn be able to share our resources and success with others.
Read Next: