These 50 Damian Lillard quotes will motivate you to pursue your dreams and push you to never give up despite several setbacks.
Damian Lillard is a six-time NBA All-Star and Portland Trail Blazers icon. This talented athlete is well-known for his long-range shooting abilities as well as his talents as a rapper.
He maintains a humble demeanor and works hard to improve his gameplay. Moreover, his athletic and musical talents inspired both his colleagues and his followers.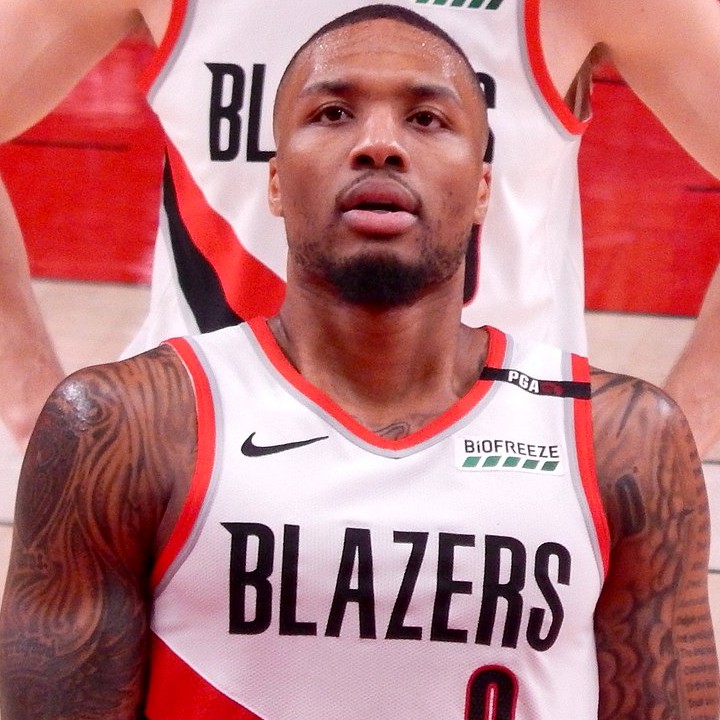 So, if you're a fan of his or just want to read some insightful lines to get you through the week, then check this list out.
Start reading here.
And don't forget to check out these Kobe Bryant quotes.
Best Damian Lillard Quotes
1. "Sometimes, it's just your turn to go through hard times."
2. "If your dreams don't match your actions, you can either change your dreams or change your actions."
3. "I just want to keep working hard, stay humble, and keep trying to win games."
4. "Pressure, nah. I'm just playing ball. Pressure is the homeless man who doesn't know where his next meal is coming from. Pressure is the single mom who is trying to scuffle and pay her rent. Don't get me wrong, there are challenges, but to call it 'pressure' is almost an insult to regular people."
5. "Injuries are a part of the game. Every athlete knows that."
6. "Anytime odds get stacked up against me, I feel like it's in me to beat it."
7. "How long should I stay dedicated? How long til opportunity meets preparation?"
8. "Visionary means being able to see a place for something that can be impactful before it's right in front of you."
9. "I'm here to be a leader and show younger people the way."
10. "Everybody picked their effort up and played with more energy in the second half, had we done that in the first half, it probably would have been a different result."
11. "We're not a bad team; we're a winning team. We've got a great environment, we've got a great city, we've got great fans, there's a lot of positives."
12. "All of those things that we did to give ourselves a chance to win were huge, and my part in it, I think, was probably my most important performance."
13. "If you want to look good in front of thousands, you have to outwork thousands in front of nobody."
14. "We have to look in the mirror and say 'I have to be better,' because whatever it is we're doing is not working and it's not giving us the shot to compete on the level that we want to compete on."
15. "I love music. In a lot of my downtime, I spend time listening to other people's music or other people's rhymes and writing my own."
Also read: Stephen Curry Quotes, Michael Jordan Quotes
Famous Damian Lillard Quotes
16. "I grew up a Warriors fan."
17. "Put some respect on my fucking name!"
18. "You have to go win the game, the Nets made a push, and they took the lead. At that point, everything is out the window. Players gotta go win it; players gotta play. And we did that."
19. "I've never had issues with stardom."
20. "I'm loyal to Portland. I want to play my whole career here, but at any moment, they can decide we want somebody else."
21. "Some shots, for me, are a good shot even if it's forced. The way it might look to a person watching, they might look at it like, 'That's a tough shot.' But for me, it's not a tough decision. I'm committed to those shots, and I spend time working on them."
22. "It's nothing for us to be ashamed of, I thought we played a really good game. I don't think the score said the way the game went."
23. "I think that's the stage we're at as a team where we all, not just me, not just my teammates, not just our new coaching staff, the front office, everybody in this organization must look in the mirror because we've constantly come up short."
24. "Most parents are able to be with their kids every day. Every day of their life, their parents have an opportunity to be with them, and we don't have that luxury as professional athletes. That's the hardest thing."
25. "I want to see things work out for everybody—so it's a burden I place on myself to make sure that we are performing at a certain level, that we get certain things done."
26. "I think over the course of the series, at least after Game 1, I just haven't seen the ball go inconsistently enough, my job is to stay aggressive, keep doing what I do, and tonight, shots fell."
27. "Tried to get a little bit of space—Andre Iguodala grabbed my arm and I lost the ball a bit, there were a lot of contacts, but obviously, the ref is not going to decide the game or jump in at that point. So—good defensive play."
28. "For me, it's just amazing that I grew up watching Tim Duncan and KG and Kobe and Paul Pierce, Allen Iverson and all those guys and now it's like, 'man, I can't believe they actually got old.' It's like they actually walked away. It's crazy to think about, but the game has to keep moving."
29. "It is impressive and I think it impressive for any team, to go out on the road and to win on someone else's floor is tough. Anything can go wrong on the road. We have grown so much."
30. "I'm straight up with y'all. I'm not unhappy. I love where I live, I love the organization, I love our coaching staff, I love who I am."
Also read: Famous Quotes, Encouraging Quotes
Damian Lillard Quotes About His Life and Career in Basketball
31. "I read, I watch a lot of movies, I'm constantly living, so I'm constantly having more to say."
32. "I know, personally, people said a lot about what kind of defender I was. So I wanted to get better at it."
33. "We know how it feels to win again, now we can just kind of move on from that and stay focused on this series."
34. "That's part of what makes it special, I'm from here, I could walk home from here if I wanted to, that tells you how close it is."
35. "I started working with Special Olympics when I was 17 years old. I'll never forget the first time I did it: I was at Weber State, and it was the summer before I started school. We have to get up in the morning and do this Special Olympics camp."
36. "I always enjoy when CJ gets rolling because it's not just the fact that he's doing it for our team; it's the way it looks. Smooth. Crossovers. Crafty. Tough shots."
37. "It's basically a game where only one team is going to make it out, it's your last opportunity to play, so facing elimination is what it is to me, and that's going to be my approach, just like it was tonight. The only thing is that it's going to be on the road. It's for our season. All the marbles."
Also read: Quotes to Live By, Positive Quotes
Damian Lillard Quotes on Dealing With Pressure
38. "I don't want him to hurt himself. I don't want him to choke on something. You're just so concerned for them, and it hurts you. It's so alarming, man. I feel it for the people around me, but it's deeper for my son. Only a parent would understand."
39. "I always talk about, like, with end-of-game situations, making and missing big shots, I know I can shoulder that. I can live with having the success of the playoffs and having a huge failure. I know I can deal with it."
40. "A lot of people kind of—conform. I don't want it to sound like I'm saying don't care about championships. That's not my point. But what I'm saying is a lot of people give in to the pressure of, 'I didn't have this; I didn't have rings.'"
41. "This era is like, 'Oh, I want to win championships, and how many rings do you have?' I've said that's what I play for: to win. But I'm not as overly consumed by that as how I treat people around me. And how I care about the people around me."
42. "Obviously I loved Ed. One of my best friends in the league, favorite teammates I've played with. That's a loss for our team."
Also read: Basketball Quotes
Damian Lillard Quotes That Will Tell You More About His Musical Preferences
43. "I feel like when it comes to rap—like real rap music—and knowing the pioneers of rap, I feel like there's no competition for me in the NBA. Other guys can rap, but they're not as invested or as deep into actual music as I am and always have been. I think that might be what the difference is. I'm more wanting to be an artist."
44. "I like '1989,' the whole album. 'Welcome to New York,' 'Blank Space.' 'Bad Blood'—all of it!"
45. "When I get done playing basketball, I'm definitely not going to be a rapper. I'm not going to be an old person who is focused on being a rapper."
46. "I want to have hit records, but I'm not searching to say, 'All right, I need this to be in the club. I need this, that.' I'm just making quality music."
47. "I started rapping towards the end of middle school. In high school, with a lot of my friends, we would make beats and just start rapping—beating on the wall, beating on the table, and freestyling."
48. "When you listen to my music, you're going to know that you're getting the real me, my real thoughts and feelings—I want people to be like, 'Oh, he's fresh out with his music for it to be this good.'"
49. "I'm rapping, I'm hooping, I'm on a max-contract, I got a big shoe deal. Everything is good now. So of course, the support is going to be there, the love is going to be there, but what's going to happen when it changes or when I'm on the back-end of my career or when I ain't on TV all the time?"
50. "With Biggie, I thought his flow and his swag was better than Tupac, but I thought Tupac's passion and ability to relate to the average person was better than Biggie, and I thought Nas was kind of like both, with a lot of substance going but a lot of swag."
Do You Admire Damian Lillard's Leadership and Gameplay?
In 2012, he won third-team All-American honors while playing college basketball for the Weber State Wildcats. All this and more just show how this versatile man will inspire you with his leadership and modesty.
Damian has been a member of the Portland Trail Blazers since 2012 and has remained committed to the team. His teammates look up to him as a dependable point guard and teammate. But, despite his many achievements, he continues to work hard and practice a lot to improve as a player.
Great people don't just pop out of anywhere. They work all hours of the day and night to meet their objectives. So, let these Damian Lillard quotes serve as your motivation to work hard and persevere to achieve your life goals. 
Which Damian Lillard quotes caught your attention? Please, let us know what you think in the comments area below.
Read Next: