Get your hot cocoa and Christmas fix through this collection of more than 100 December quotes.
This collection will get you into the Christmas spirit and warm you up for the coming winter with quotes about love, life, and Christmas.
December is a month when everything slows down and speeds up at the same time—the coldness of winter and the warmth of the fire makes you relax, while the Christmas rush and the excitement makes you feel like everything is happening at the same time.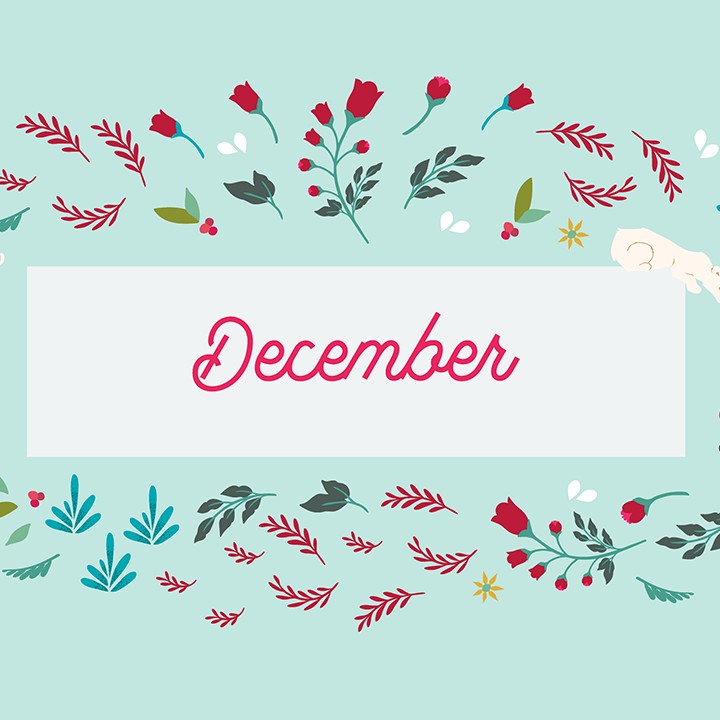 This list features just about everything that famous authors, philosophers, and even songs have to say about the season.
Check out the full list below.
And make sure to read our collection of October quotes and November quotes.
Best December Quotes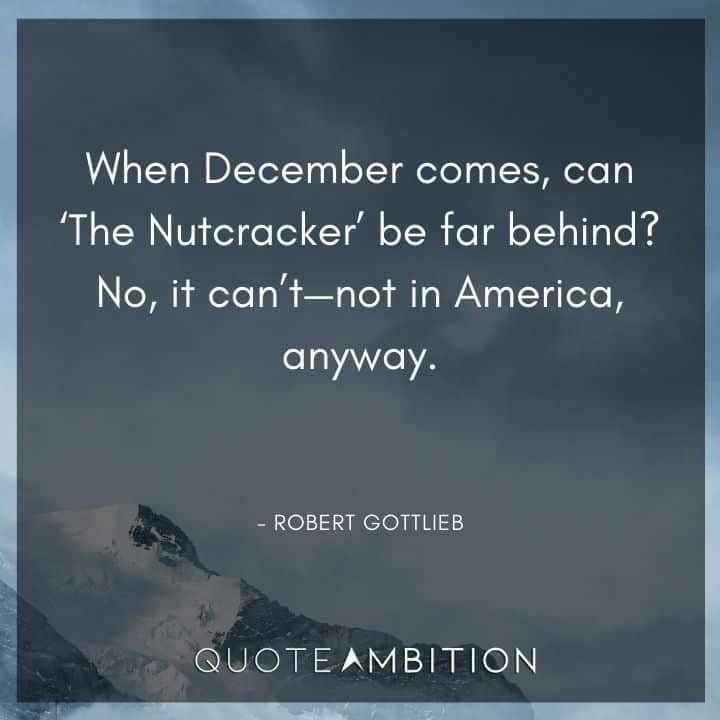 1. "When December comes, can 'The Nutcracker' be far behind? No, it can't—not in America, anyway." – Robert Gottlieb
2. "December's wintery breath is already clouding the pond, frosting the pane, obscuring summer's memory." – John Geddes
3. "The crisp path through the field in this December snow, in the deep dark, where we trod the buried grass like ghosts on dry toast." – Dylan Thomas
4. "December drops no weak, relenting tear, by our fond Summer sympathies ensnared, nor from the perfect circle of the year can even Winter's crystal gems be spared." – Christopher Pearce Cranch
5. "Remember this December, that love weighs more than gold!" – Josephine Dodge Daskam Bacon
6. "It is December, and nobody asked if I was ready." – Sarah Kay
7. "Chill December brings the sleet, blazing fire, and Christmas treat." – Sara Coleridge
8. "The cold is coming. December's winter solstice. Start of the season." – Robert Pettit
9. "When I was a child, my December weekends were spent making cards, decorating the tree, hanging the wreath, and preparing brandy butter and peppermint creams." – Pippa Middleton
Inspirational December Quotes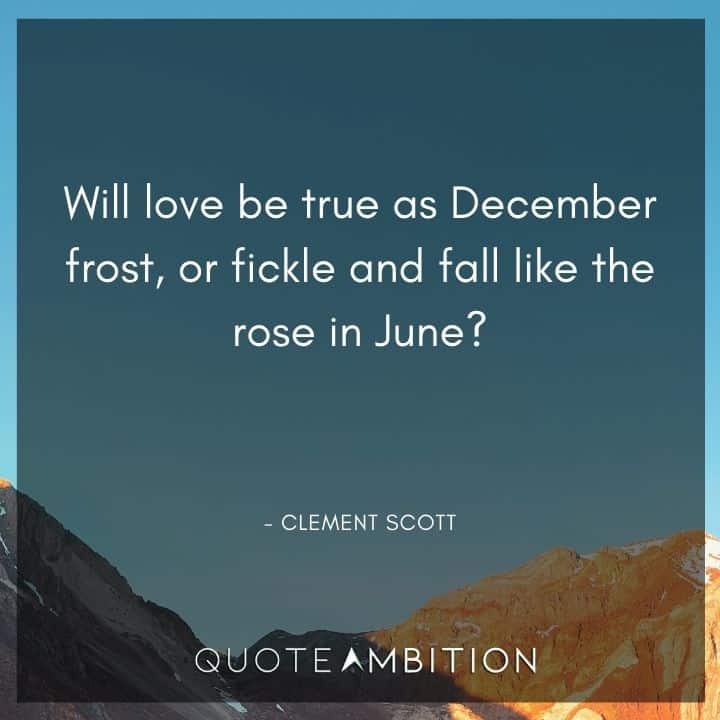 10. "Will love be true as December frost, or fickle and fall like the rose in June?" – Clement Scott
11. "For that you need December. You need to have lived through the mindless biological imperatives of your life before you can see that a landscape of new fallen snow is the real you." – Vivian Swift
12. "Colored lights blink on and off, racing across the green boughs. Their reflections dance across exquisite glass globes and splinter into shards against tinsel thread and garlands of metallic filaments that disappear underneath the other ornaments and finery. Shadows follow, joyful, laughing sprites. The tree is rich with potential wonder. All it needs is a glance from you to come alive." – Vera Nazarian
13. "Now is the time for fresh starts. This is the season that makes everything new. There is a longstanding rumor that Spring is the time of renewal, but that's only if you ignore the depressing clutter and din of the season." – Vivian Swift
14. "Let all the failures of your past year be your best guide in the New Year." – Mehmet Murat ildan
15. "As we look to the new year, hold on to what is good. Let go of what is bad. It really is that simple." – Mandy Hale
16. "What the new year brings to you will depend a great deal on what you bring to the new year." – Vern McLellan
17. "In the depth of winter, I finally learned that there was in me an invincible summer." – Albert Camus
18. "You skins is so cold and dry. Like you are also afraid so this coming December." – Moaz Zulfiqar
19. "When dark December glooms the day, and takes our autumn joys away." – Walter Scott
December Quotes on Life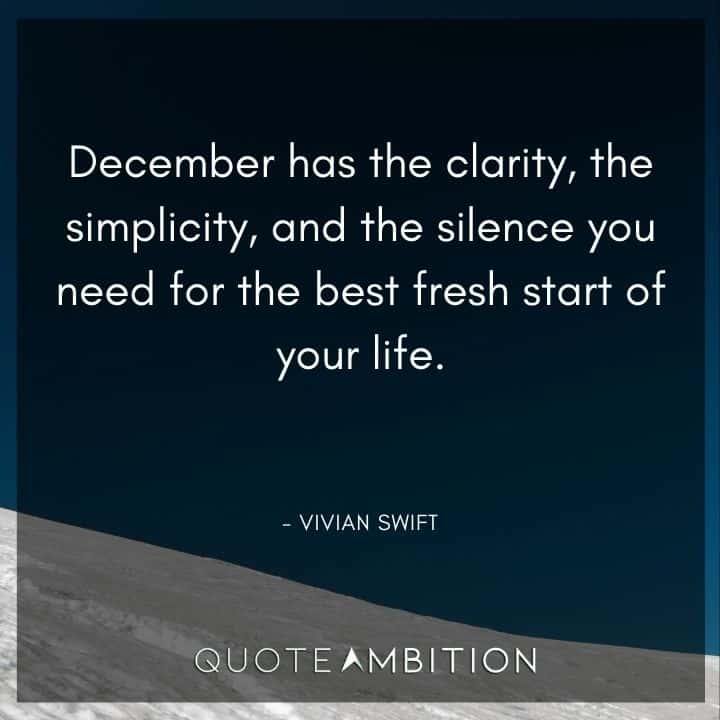 20. "December has the clarity, the simplicity, and the silence you need for the best fresh start of your life." – Vivian Swift
21. "It was December, I had never felt so cold. The eel soup lay heavy on my stomach, I was afraid I'd die, I turned aside to vomit, I envied them." – Samuel Beckett
22. "Year's end is neither an end nor a beginning, but a going on—with all the wisdom that experience can instill in us." – Hal Borland
23. "He had been walking for a long time, ever since dark in fact, and dark falls soon in December." – Charlotte Riddell
24. "It is the middle of December now, and we are about to travel to Switzerland where we plan to ski a little, relax a little, and shoot a Dutch politician a little." – Hugh Laurie
25. "December, being the last month of the year, cannot help but make us think of what is to come." – Fennel Hudson
26. "In the winter, she curls up around a good book and dreams away the cold." – Ben Aaronovitch
27. "People can't concentrate properly on blowing other people to pieces if their minds are poisoned by thoughts suitable to the twenty-fifth of December." – Ogden Nash
28. "I know. I'm lazy. But I made myself a New Years resolution that I would write myself something really special. Which means I have 'til December, right?" – Catherine O'Hara
29. "In cold December, fragrant chaplets blow, and heavy harvests nod beneath the snow." – Alexander Pope
Funny December Quotes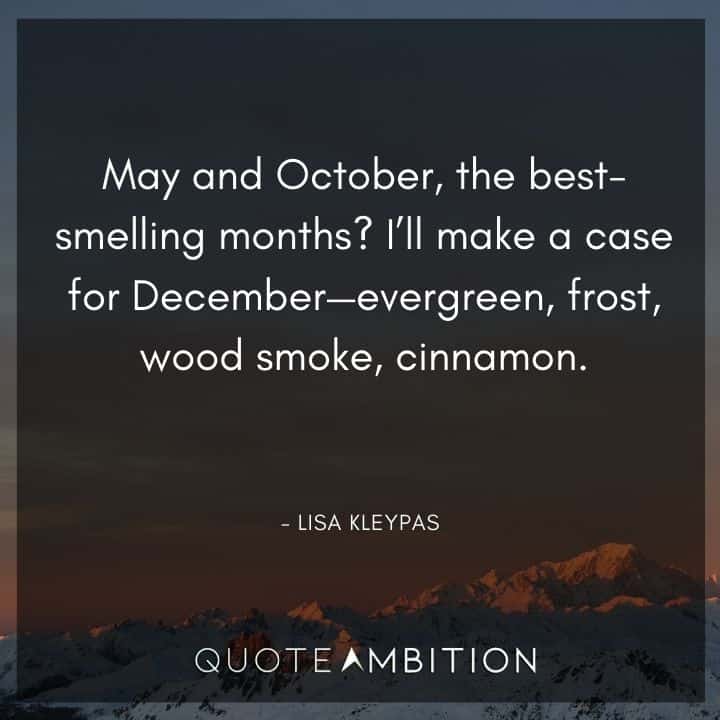 30. "May and October, the best-smelling months? I'll make a case for December—evergreen, frost, wood smoke, cinnamon." – Lisa Kleypas
31. "The gardening season officially begins on January 1st, and ends on December 31." – Marie Huston
32. "We Indians have to keep aside our December for friends who've settled abroad. Everyone is visiting. Everyone wants to party." – Nitya Prakash
33. "December is the toughest month of the year. Others are July, January, September, April, November, May, March, June, October, August, and February." – Mark Twain
34. "Men are April when they woo, December when they wed. Maids are May when they are maids, but the sky changes when they are wives." – William Shakespeare
35. "Christmas begins about the first of December with an office party and ends when you finally realize what you spent, around April fifteenth of the next year." – P.J. O'Rourke
36. "My December is typically one big, sweaty 'wintry mix' blur, not a punch-laden, heartwarming mixer." – Emily Weiss
37. "Someone asked me when is my birthday/ The poet inside me replied, 'My birthday is on the last day of the year. It's 31st December my dear.'" – Anamika Mishra
38. "Michigan isn't just cold in December; it's arctic." – Daniel Milstein
39. "Every December, I host a tree-trimming party. I serve chili with cornbread and lots of good wine. It's a wonderful party, and it shows how much adults like to play." – Maya Angelou
40. "If it's December in Casablanca, what time is it in New York?" – Howard Koch
41. "This looks like a December day, it looks like we've come to the end of the way." – Willie Nelson
42. "People think I'm a freemason, and I'm not. People think I believe the end of the world is coming on 21 December 2012, and I don't." – Graham Hancock
43. "Throughout my teenage years, I read 'A Christmas Carol' by Charles Dickens every December. It was a story that never failed to excite me, for as well as being a Dickens enthusiast, I have always loved ghost stories." – John Boyne
44. "I'm bad on Valentine's Day, but even worse on Christmas. I go shopping at nine o'clock on December 24th every year. Nobody else is there. I'm in Toys R Us all by myself. I get there five minutes before closing." – Jamie Foxx
Short December Quotes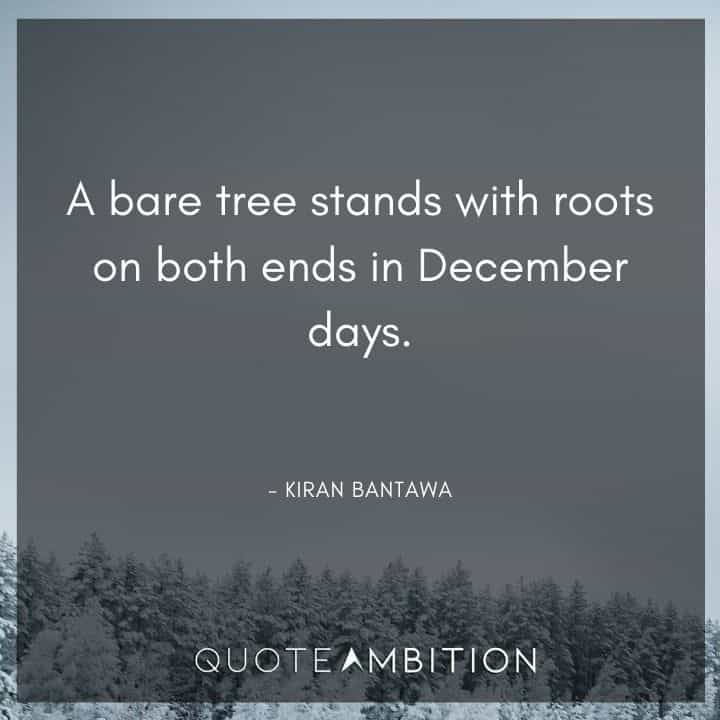 45. "A bare tree stands with roots on both ends in December days." – Kiran Bantawa
46. "How did it get so late so soon?" – Dr. Seuss
47. "I've come to sing you a song called December." – Ryan Murphy
48. "December's immaculate coldness feels warm. December feels like blood." – Zinaida Gippus
49. "December—a desperate celebration of an end." – Chandrama Deshmukh
50. "There's something super special about December." – Charmaine J. Forde
51. "It is never over, though we are in December!" – Ernest Agyemang Yeboah
52. "December is the holdout month, all the others torn away." – Anne Gisleson
53. "Baby, it's cold outside." – Dean Martin
54. "It's the most wonderful time of the year." – Andy Williams
55. "Some people are worth melting for." – Olaf
56. "I get excited for big games in December." – Jon Gruden
57. "In this world, only winter is certain." – George R.R. Martin
58. "December was a horrible month." – Sandy Bryant
59. "Nothing burns like the cold." – George R.R. Martin
Beautiful December Quotes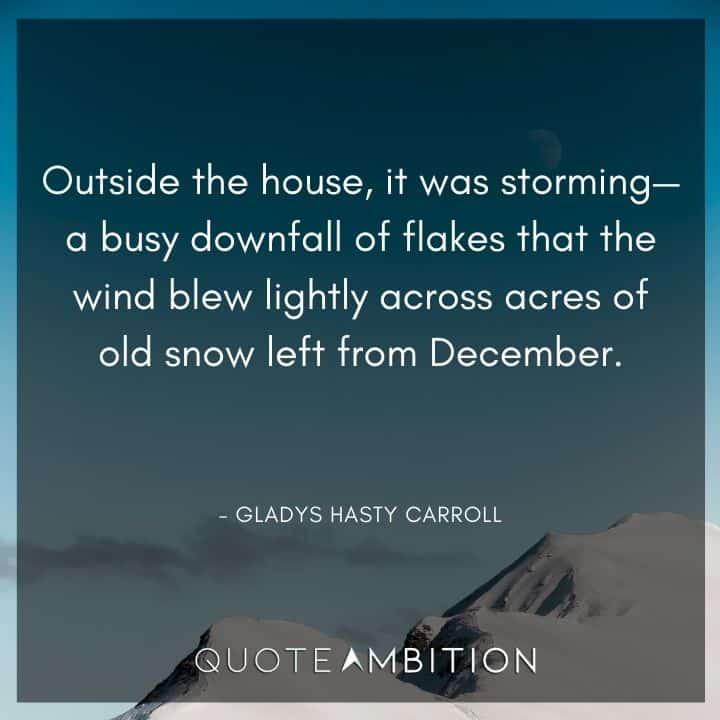 60. "Outside the house, it was storming—a busy downfall of flakes that the wind blew lightly across acres of old snow left from December." – Gladys Hasty Carroll
61. "The sun that brief December day rose cheerless over hills of gray, and darkly circled, gave at noon a sadder light than the waning moon." – John Greenleaf Whittier
62. "I wander forth this chill December dawn: John Frost and all his elves are out, I see, as busy as the elfin world can be, clothing a world asleep with fleecy lawn." – Robert Buchanan
63. "I heard a bird sing in the dark of December. A magical thing. And sweet to remember. We are nearer to Spring than we were in September. I heard a bird sing in the dark of December." – Oliver Herford
64. "By December, an elastic skin of ice reached out hundreds of miles into the sea, rolling with every wave." – Will Chancellor
65. "To appreciate the beauty of a snowflake it is necessary to stand out in the cold." – Aristotle
66. "The color of springtime is in the flowers; the color of winter is in the imagination." – Terri Guillemets
67. "Kindness is like snow—it beautifies everything it covers." – Kahlil Gibran
68. "When snow falls, nature listens." – Antoinette van Kleef
69. "If cold December gave you birth, the month of snow and ice and mirth, place on your hand a turquoise blue, success will bless whate'er you do." – Anonymous
70. "God gave us memory so that we might have roses in December." – James M. Barrie
71. "How like a winter hath my absence been. From thee, the pleasure of the fleeting year. What freezings have I felt, what dark days seen? What old December's bareness everywhere." – William Shakespeare
72. "The holly and the ivy, when they are both full grown, of all trees that are in the wood. The holly bears the crown. O, the rising of the sun, and the running of the deer, the playing of the merry organ. Sweet singing in the choir." – Christmas Carol
73. "It's night before it's afternoon. December is here before it's June. My goodness how the time has flewn." – Dr. Seuss
74. "If you represent the Earth's lifetime by a single year, say from January when it was made to December, the 21st-century would be a quarter of a second in June—a tiny fraction of the year. But even in this concerted cosmic perspective, our century is very, very special—the first when humans can change themselves and their home planet." – Martin Rees
December Quotes About the Holidays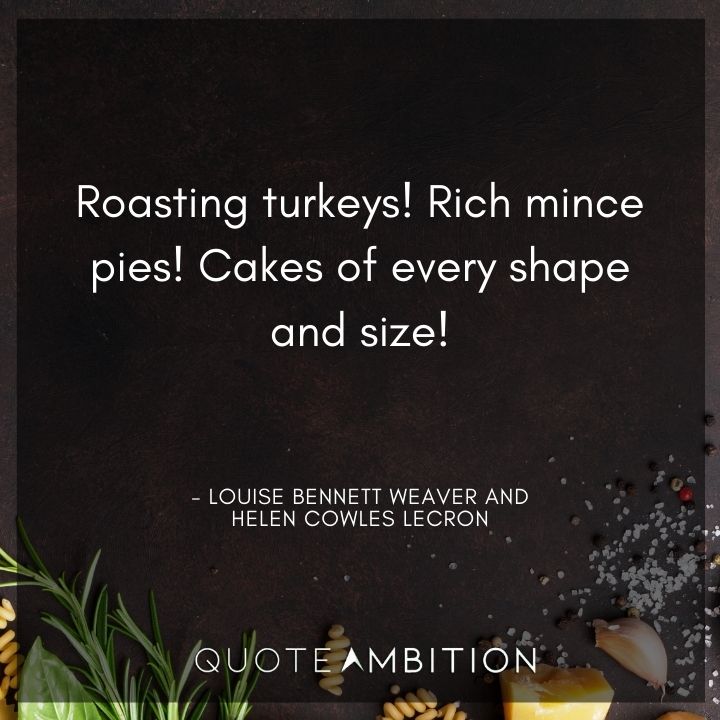 75. "Roasting turkeys! Rich mince pies! Cakes of every shape and size!" – Louise Bennett Weaver and Helen Cowles LeCron
76. "I heard the bells on Christmas Day—their old, familiar carols play, and wild and sweet the words repeat of peace on earth, good will to men!" – Henry Wadsworth Longfellow
77. "At Christmas, I no more desire a rose than wish a snow in May's new-fangled mirth; but like of each thing that in season grows." – William Shakespeare
78. "It was snowing. It was always snowing at Christmas. December, in my memory, is white as Lapland, though there were no reindeers, but there were cats." – Dylan Thomas
79. "Christmastime was always my favorite time of year. It did something to me. It made me softer. More kind hearted. Not an affliction I fall prey to lately. But back then I loved the days leading up to Christmas almost as much as I loved the day itself." – Serena Valentino
80. "Mankind is a great, immense family. This is proved by what we feel in our hearts at Christmas." – Pope John XXIII
81. "May you never be too grown up to search the skies on Christmas Eve." – Anonymous
82. "Maybe Christmas doesn't come from a store. Maybe Christmas, perhaps, means a little bit more." – Dr. Seuss
83. "Winter is not a season, it's a celebration." – Anamika Mishra
84. "Christmas is a time when you get homesick even when you're home." – Carol Nelson
85. "There must be something ghostly in the air of Christmas. Something about the close, muggy atmosphere that draws up the ghosts, like the dampness of the summer rains brings out the frogs and snails." – Jerome K. Jerome
86. "I detest 'Jingle Bells,' 'White Christmas,' 'Rudolph the Red Nosed Reindeer,' and the obscene spending bonanza that nowadays seems to occupy not just December, but November and much of October, too." – Richard Dawkins
87. "Hot cocoa and cold toes remind me of Christmas." – Toni Sorenson
88. "The more games you win, the warmer it gets in December." – Lee Corso
89. "Nobody wins the league in December. We have to go game by game." – Luis Enrique
More December Quotes About Christmas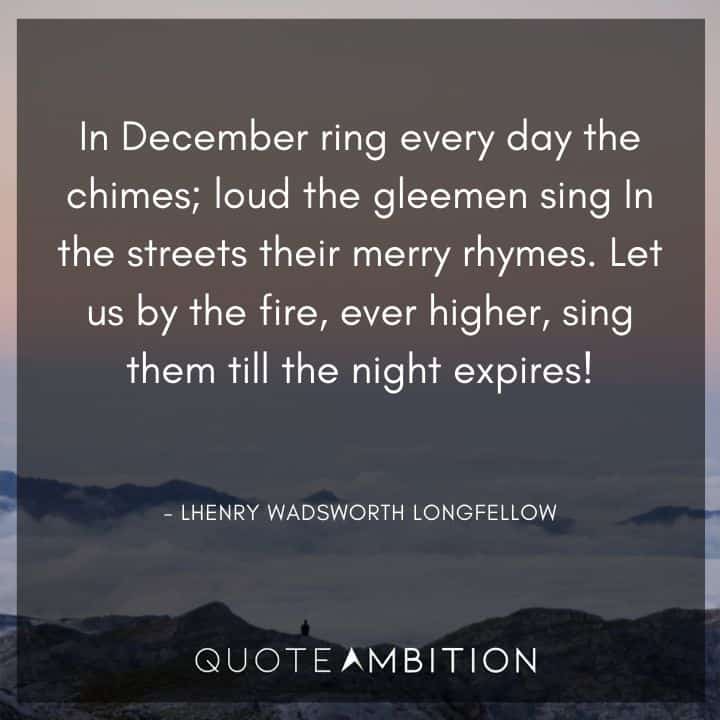 90. "In December ring every day the chimes; loud the gleemen sing In the streets their merry rhymes. Let us by the fire, ever higher, sing them till the night expires!" – Henry Wadsworth Longfellow
91. "When I was a kid, Toronto streets were deserted and quiet on Sundays, except for the sound of church bells. I stood on the sidewalk one December listening to the Christmas bells. I've never forgotten that moment." – John Geddes
92. "My favorite traditional Christmas movie that I like to watch is 'All Quiet on the Western Front.' It's just not December without that movie in my house." – Tom Hanks
93. "I blink January's lashes and gush down December's cheeks." – Sanober Khan
94. "No matter what my fortune may be, or where I may roam, in December, I'll be going home." – Floyd Huddleston
95. "If we make it through December, everything's gonna be alright, I know. It's the coldest time of winter and I shiver when I see the falling snow." – Merle Haggard
96. "Every December, I take two or three weeks off. After an entire season of training and climbing, my body needs the break." – Adam Ondra
97. "For more than a decade, I led an organization that put on an elaborate Christmas program each December. It was a big production, with over 250 people participating in more than 20 performances. By the end of the season, everyone who participated was exhausted." – John C. Maxwell
98. "From November through December, 'tis the season for 'Home Alone!'" – Catherine O'Hara
99. "If you are feeling some December blues, or even depression, don't fight it. Instead, do something for yourself. Be reflective. Let the emotions exist. And be encouraged that, like me, you can get to a better place, but it can take time." – Brad Feld
December Quotes About Love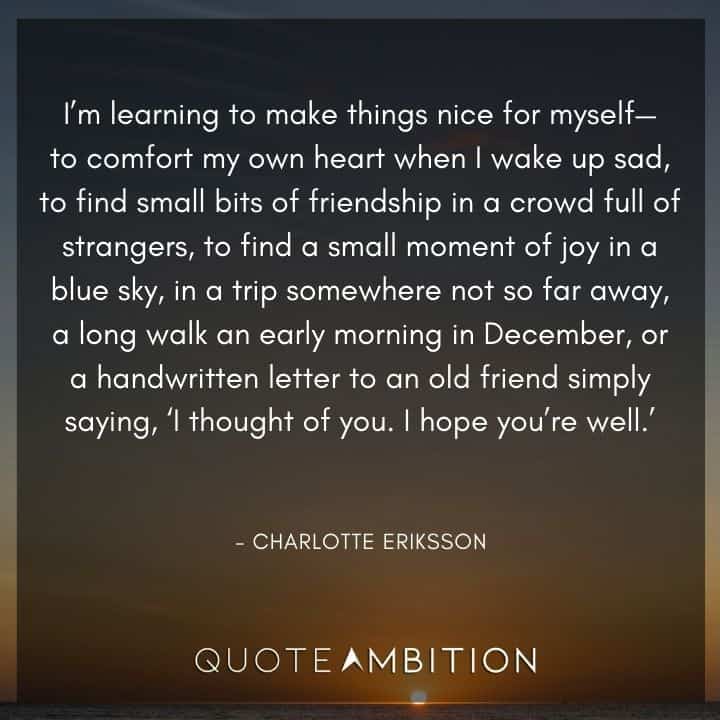 100. "I'm learning to make things nice for myself—to comfort my own heart when I wake up sad, to find small bits of friendship in a crowd full of strangers, to find a small moment of joy in a blue sky, in a trip somewhere not so far away, a long walk an early morning in December, or a handwritten letter to an old friend simply saying, 'I thought of you. I hope you're well.'" – Charlotte Eriksson
101. "There was warmth in his large piercing brown eyes. The kind of warmth that tucks a child into bed. The same kind of warmth that dries your wet hair on a rainy December afternoon." – Malak El Halabi
102. "If kisses were snowflakes, I'd send you a blizzard." – Anonymous
103. "I think of John every day. I do try to block it, but December is not the only day I think of him." – Yoko Ono
104. "Will you love me in December as you do in May?" – Jack Kerouac
105. "Who is not a love seeker when December comes? Even children pray to Santa Claus." – Rod McKuen
106. "My brothers and sisters, true love is a reflection of the Savior's love. In December of each year, we call it the Christmas spirit. You can hear it. You can see it. You can feel it." – Thomas S. Monson
107. "I have forgotten much, but still remember the poinsiana's red, blood-red in warm December." – Claude McKay
108. "As we struggle with shopping lists and invitations, compounded by December's bad weather, it is good to be reminded that there are people in our lives who are worth this aggravation, and people to whom we are worth the same." – Donald E. Westlake
109. "Do your heart and head keep pace? When does hoary love expire, when do frosts put out the fire? Can its embers burn below all that chill December snow?" – Edmund Clarence Stedman
Wise December Quotes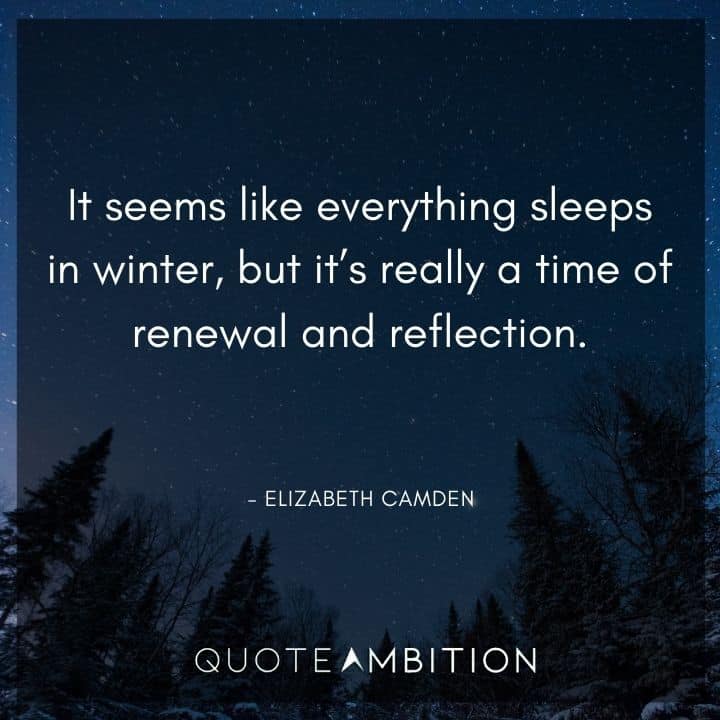 110. "It seems like everything sleeps in winter, but it's really a time of renewal and reflection." – Elizabeth Camden
111. "I've come to believe that whoever I am didn't start in December , and isn't going to end on whatever that mysterious date is in the future." – Patty Duke
112. "And last December drear, with piteous low-drooped head. In a voice of desolation crying out, the year is dead. And so, with changeful gear, with a smile or frown or song, the months, in strange variations, are ever gliding along." – Edgar Fawcett
113. "December 25th has become guilt and obligation." – Phil Donahue
114. "What should we speak of when we are as old as you? When we shall hear the rain and wind beat dark December? How in this our pinching cave, shall we discourse the freezing hours away?" – William Shakespeare
115. "To die would mean nothing else than to surrender a nothing to the nothing, but that would be impossible to conceive, for how could a person, even only as a nothing, consciously surrender himself to the nothing, and not merely to an empty nothing but rather to a roaring nothing whose nothingness consists only in its incomprehensibility." – Franz Kafka
116. "But it's a long, long while from May to December; and the days grow short when you reach September." – Maxwell Anderson
117. "O cruel cloudless space, and pale bare ground where the poor infant lies. Why do we feel restored as in a sacramental place? Here mystery is artifice, and here a vision of such peace is stored, healing flows from it through our eyes." – May Sarton
118. "This is what I have heard at last—the wind in December lashing the old trees with rain unseen, rain racing along the tiles under the moon, wind rising and falling, wind with many clouds, trees in the night wind." – W. S. Merwin
119. "Having contemplated this admirable grove, I proceeded towards the shrubberies on the banks of the river, and though it was now late in December, the aromatic groves appeared in full bloom." – William Bartram
120. "I remember, I remember how my childhood fleeted by. The mirth of its December, and the warmth of its July." – Winthrop Mackworth Praed
121. "Make it a December to remember." – Anonymous
122. "Shall we liken Christmas to the web in a loom? There are many weavers, who work into the pattern of the experience of their lives. When one generation goes, another comes to take up the weft where it has been dropped. The pattern changes as the mind changes, yet never begins quite anew. At first, we are not sure that we discern the pattern, but at last we see that, unknown to the weavers themselves, something has taken shape before our eyes, and that they have made something very beautiful, something which compels our understanding." – Earl W. Count
123. "I think December has always been the most haunted month, from the gothic-narrative point of view. A lot of Edgar Allan Poe stories are set in December. It's the last month of the year, and it's supposed to be sort of this mystical, spiritual month. And being Swedish, December is also the darkest month out of the year." – Bill Skarsgard
124. "December used to be very difficult for me. For many years, I fought the transition to the new year, was generally exhausted at the end of the year, and just wanted to hide. I described myself as a 'cranky Jewish kid who felt left out by Christmas.'" – Brad Feld
December Quotes About the Season and the Cold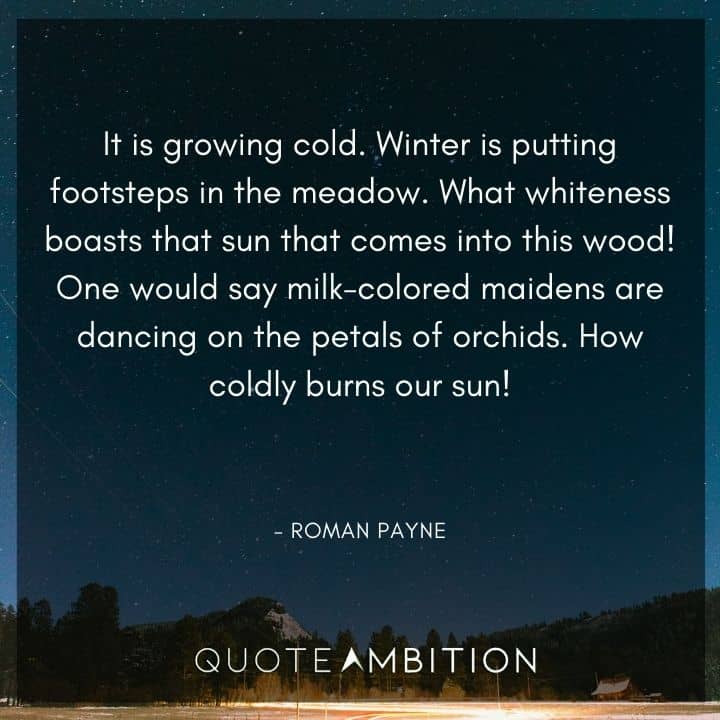 125. "It is growing cold. Winter is putting footsteps in the meadow. What whiteness boasts that sun that comes into this wood! One would say milk-colored maidens are dancing on the petals of orchids. How coldly burns our sun!" – Roman Payne
126. "There is October in every November and there is November in every December! All seasons melted in each other's life!" – Mehmet Murat ildan
127. "December is a bewitching month. The grey of cold teases to explode into something worthwhile, into a dream of cold, a starlight shower you can taste, a cold that does not chill." – Joseph Coelho
128. "I watched you storm towards the restaurant door. It was a chilly December morning and the birds sitting on the high wires in the neighborhood refused to fly any longer." – Malak El Halabi
129. "On the evening of December, General Washington in a most severe season, crossed the Delaware with a part of his army, then reduced to less than men in the whole." – Mercy Otis Warren
130. "What good is the warmth of summer, without the cold of winter to give it sweetness?" – John Steinback
131. "I miss being in Barbados in December. That is the time I always remember. The smell of varnish on the wooden floors. And the smell of paint on the wooden doors. The crowds in de Supermarket buying up the rum, and the music blasting. Puh rup a pum pum." – Charmaine J Forde
132. "I was surprised my quilt and pillow were cold. I see that now the window's bright again. Deep in the night, I know the snow is thick, I sometimes hear the sound as bamboo snaps." – Bai Juyi
133. "If the October days were a cordial like the sub-acids of fruit, these are a tonic like the wine of iron. Drink deep or be careful how you taste this December vintage. The first sip may chill, but a full draught warms and invigorates." – John Burroughs
134. "I don't mean to burst anyone's bubble, but there is no scriptural or historical basis for December 25th actually being the day that Jesus was born." – Charity Sunshine Tillemann-Dick
135. "He had waited a long time for this special December. Now that it was almost upon him, he wasn't frightened, but he was eager, he decided. He was eager for it to come. And he was excited, certainly. All of the Elevens were excited about the event that would be coming so soon." – Lois Lowry
136. "Yet my heart loves December's smile as much as July's golden beam; then let us sit and watch the while the blue ice curdling on the stream." – Emily Jane Brontë
137. "A long December and there's reason to believe, maybe this year will be better than the last." – Adam Duritz
138. "In December, people give no thought to the past or the future. They think only of the present." – Carolyn Wells
139. "Blessed is the season which engages the whole world in a conspiracy of love." – Hamilton Wright Mabie
December Quotes That's All About Winter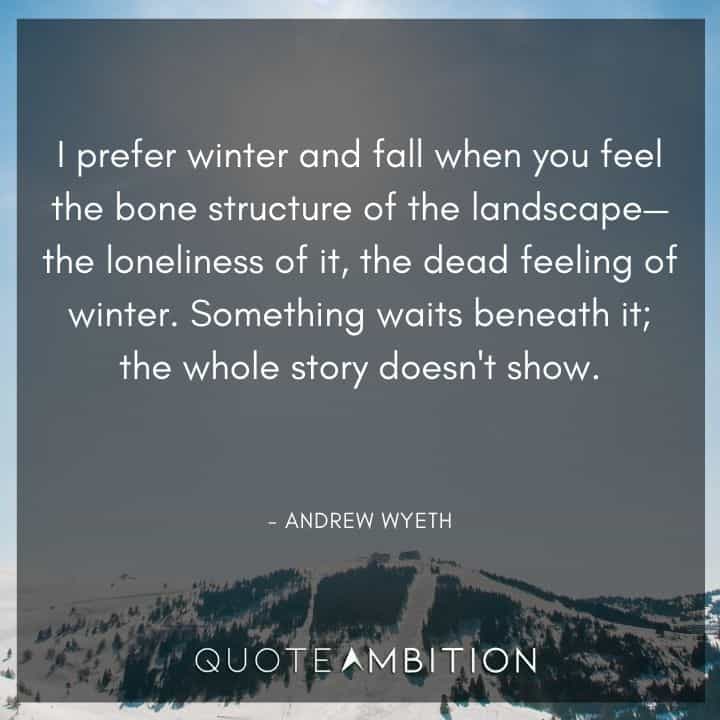 140. "I prefer winter and fall when you feel the bone structure of the landscape—the loneliness of it, the dead feeling of winter. Something waits beneath it; the whole story doesn't show." – Andrew Wyeth
141. "On the 1st day of December, 1830, I was confirmed, and in accordance with the word of the Lord I was ordained an Elder under the hands of the Prophet." – Orson Pratt
142. "Shout now! The months with loud acclaim, take up the cry and send it forth; may breathing sweet her spring perfumes, November thundering from the North. With hands upraised, as with one voice, they join their notes in grand accord; hail to December! Say they all, it gave to Earth our Christ the Lord!" – J.K. Hoyt
143. "May you have the gladness of Christmas which is hope; the spirit of Christmas which is peace; the heart of Christmas which is love." – Ada V. Hendricks
144. "Through the small tall bathroom window, the December yard is gray and scratchy, the trees calligraphic." – Dave Eggers
145. "I have often thought, it happens very well that Christmas should fall out in the middle of Winter." – Joseph Addison
146. "From December to March, there are for many of us three gardens—the garden outdoors, the garden of pots and bowls in the house, and the garden of the mind's eye." – Katherine S. White
147. "Wintry it ain't no complaints. Snowier. Storefronts are showier, light displays glowier. Shoppers are prowling, blizzard howling. Drifts a-heaping, lords a-leaping, yule logs burning, gifts returning. Winds are keen for 2015." – Old Farmer's Almanac
148. "Come, come thou bleak December wind, and blow the dry leaves from the tree! Flash, like a love-thought, thro'me, death and take a life that wearies me." – Samuel Taylor Coleridge
149. "Farewell, old year; we walk no more together; I catch the sweetness of thy latest sigh, and, crowned with yellow brake and withered heather, I see thee stand beneath this cloudy sky. Here in the dim light of a grey December we part in smiles, and yet we met in tears; watching thy chilly dawn, I well remember I thought—the saddest-born of all the years." – Sarah Doudney
Meaningful December Quotes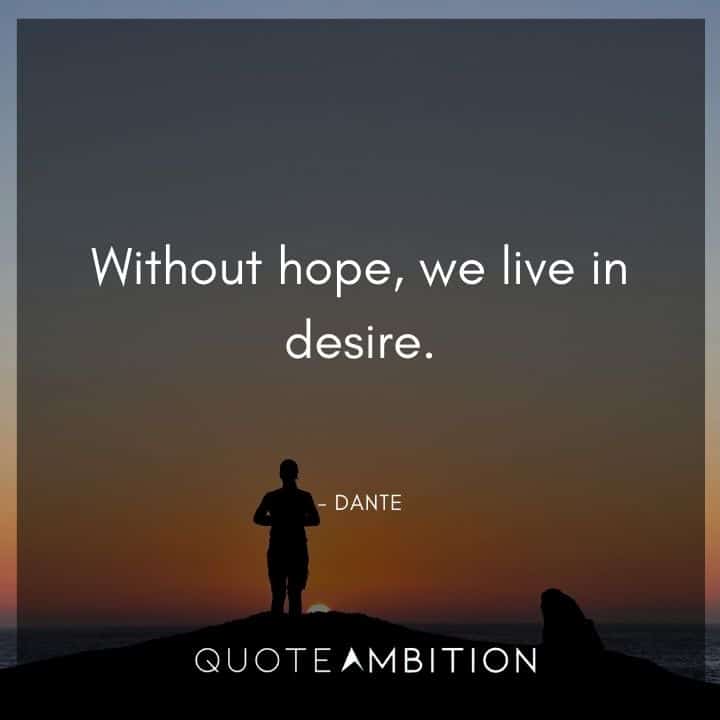 150. "Without hope, we live in desire." – Dante
151. "Winter arrived with December, and the world continued to suffer the loss of the Internet and most forms of communication. Supply chains were disrupted. The only mass form of personal communication was the letter, and postal workers were having their worst year ever, as they were actually needed. Food was becoming scarcer and more expensive, as was fuel for vehicles and heating. Major cities experienced riots on a regular basis, spurred on by religious fervor and want. Civilization was on the brink of collapse." – Mark A. Rayner
152. "It was a pretty sight, and a seasonable one, that met their eyes when they flung the door open. In the fore-court, lit by the dim rays of a horn lantern, some eight or ten little field-mice stood in a semicircle, red worsted comforters round their throats, their fore-paws thrust deep into their pockets, their feet jigging for warmth. With bright beady eyes they glanced shyly at each other, sniggering a little, sniffing and applying coat-sleeves a good deal. As the door opened, one of the older ones that carried the lantern was just saying, 'Now then, one, two, three!' and forthwith their shrill little voices uprose on the air, singing one of the old-time carols that their forefathers composed in fields that were fallow and held by frost, or when snow-bound in chimney corners, and handed down to be sung in the miry street to lamp-lit windows at Yule-time." – Kenneth Grahame
153. "The Christian Bible is a symbolic book, not a literal one. The one Christians know as Jesus was actually a symbol for the sun. Ancient sun worshippers believed the sun died at the end of the winter solstice and then three days later it would be reborn at the start of its cycle, December 25." – David Icke
154. "My December roses have been very simple folk." – J.M. Barrie
155. "So quiet and subtle is the beauty of December that escapes the notice of many people their whole lives through. Colour gives way to form—every branch distinct, in a delicate tracery against the sky. New vistas, obscured all Summer by leafage, now open up." – Flora Thompson
156. "That's the thing about December—it goes by you in a flash. If you just close your eyes, it's gone. And it's like you were never there." – Donal Ryan
157. "There is entirely too much charm around, and something must be done to stop it." – Dorothy Parker
158. "You sweat out the free agent thing in November, then you make the trades in December. Then you struggle to sign the guys left in January, and in February, I get down to sewing all the new numbers on the uniforms." – Whitey Herzog
159. "Let us fill urns with rose-leaves in May, and hive the thrifty sweetness for December!" – Edward Bulwer-Lytton
December Quotes From Famous Authors and Songs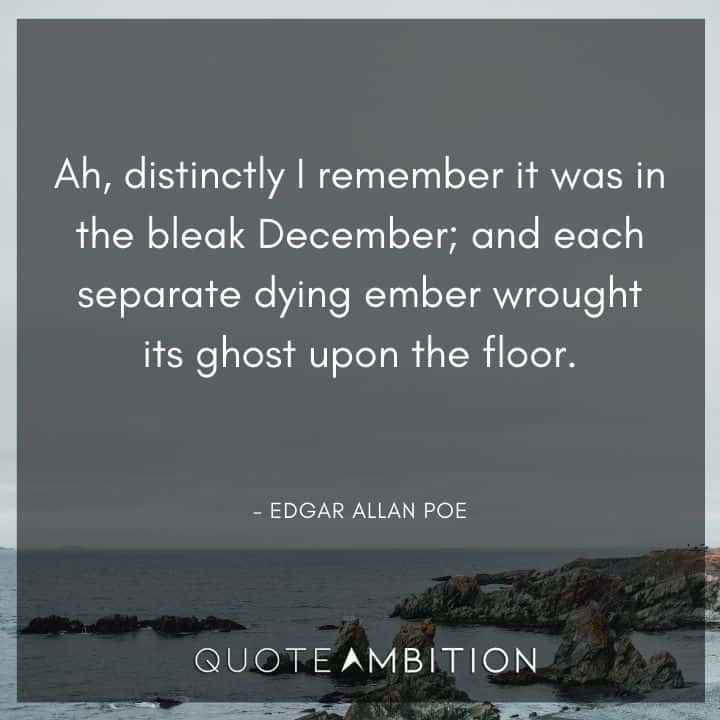 160. "Ah, distinctly I remember it was in the bleak December; and each separate dying ember wrought its ghost upon the floor." – Edgar Allan Poe
161. "Christmas won't be the same without you. Christmas won't be the same if you go. You're all I need to see, standing by my Christmas tree. 'Cause Christmas won't be the same without you." – Plain White T's
162. "In a drear-nighted December, too happy, happy brook, Thy bubblings ne'er remember Apollo's summer look; but with a sweet forgetting, they stay their crystal fretting, never, never petting about the frozen time." – John Keats
163. "Christmas Eve will find me, where the lovelight gleams. I'll be home for Christmas, if only in my dreams." – Michael Buble
164. "Cold in the earth and fifteen wild Decembers, from those brown hills, have melted into spring." – Emily Bronte
165. "And so, I'm offering this simple phrase to kids from one to 92. Although it's been said many times, many ways, Merry Christmas to you." – Nat King Cole
166. "Of all the months of the year, there is not a month one half so welcome to the young, or so full of happy associations, as the last month of the year." – Charles Dickens
167. "Holidays are joyful, there's always something new. But every day is a holiday, when I'm near to you." – The Carpenters
168. "There must have been some magic in that old silk hat they found, for when they placed it on his head, he began to dance around!" – Walter E. Rollins
169. "The mood is right, the spirits up. We're here tonight and that's enough. Simply having a wonderful Christmas time." – Paul McCartney
170. "The December to January period is the strongest time of the year. It is an easy time to shift states of mind." – Frederick Lenz
What Comes to Mind When You Think About December?
December is a month that can mean a lot of different things to people. But mostly, it is a time to cuddle up with our loved ones and enjoy what the season has to offer. And though we may get caught up in the rush of things—like celebrations, reunions, shopping for gifts, and the like, we should remember the true essence of the holiday that comes with this season.
It reminds us of love and togetherness, and it shows us the wonders that nature has to offer. Take a break, and pause. Look at the world and the people around you, and remind yourself to be thankful of each and every day in the past year. While December marks the end of the year, it's also the gateway to the next. So look back, reflect, and be excited about what's coming next.
Which of these quotes got you into the Christmas fever? Have you found one or two quotes that you love and can serve as an inspiration? Share your thoughts in the comments section below.
Read Next: