These leaf quotes will teach you how it's okay to fall and land on the ground, as long as you get back up again and grow from your mistakes.
By providing food and oxygen, leaves help us stay healthy and grow. In fact, people and animals both require oxygen to survive.
Without the presence of leaves and other plants, the earth's supply of breathable oxygen would almost certainly be depleted.
But, more than just a means for survival, leaves are also metaphors to the various things we experience in life.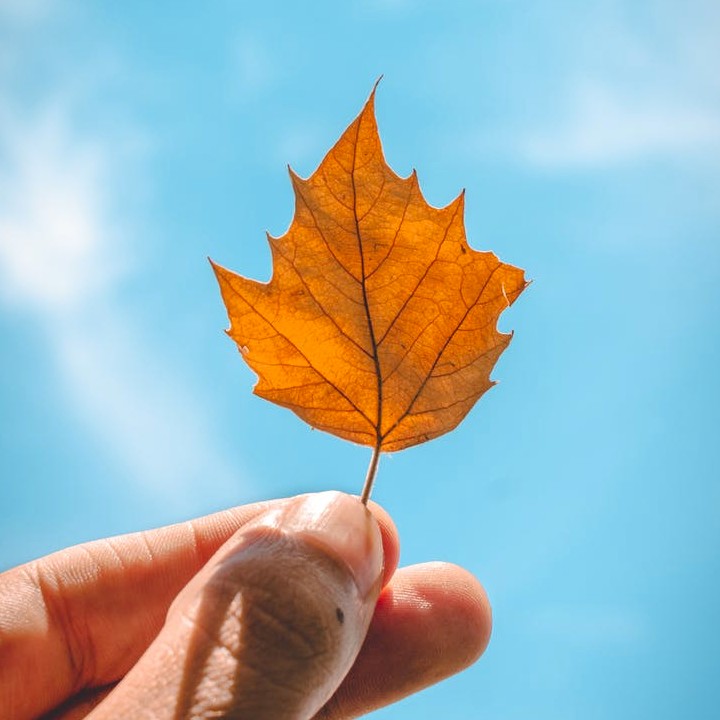 See the complete list below to better understand leaves and what they mean to humanity!
Begin here.
Best Leaf Quotes
1. "Let your life lightly dance on the edges of time like dew on the tip of a leaf." – Rabindranath Tagore
2. "Even a leaf in the wind settles sometimes." – Alison Goodman
3. "There is a subtle magic in the falling of old leaves." – Avijeet Das
4. "Fallen leaves on the ground are the golden song of immortal creativity." – Amit Ray
5. "They tell you to turn into a new leaf and then complain about your faded color." – Nitya Prakash
6. "When leaves turn bright colors in the fall they make one last effort to compete with the flowers." – Brent M. Jones
7. "In the whisper of the leaves appears an interchange of love." – William Jones
8. "The rustling of the leaves is like a low hymn to nature." – James Ellis
9. "Every leaf speaks bliss to me, fluttering from the autumn tree." – Emily Brontë
10. "A fallen leaf is nothing more than a summer's wave goodbye." – Anonymous
Leaf Quotes That Show How It's a Metaphor to Life
11. "Birth, life, and death—each took place on the hidden side of a leaf." – Toni Morrison
12. "Does a leaf, when it falls from the tree in winter, feel defeated by the cold? The tree says to the leaf: 'that's the cycle of life.' You may think you're going to die, but you live on in me. It's thanks to you that I'm alive because I can breathe. It's also thanks to you that I have felt loved, because I was able to give shade to the weary traveler. Your sap is in my sap; we are one thing." – Paulo Coelho
13. "Each leaf tells us a story. The story of its struggle. The struggle against the storms that it faces in life." – Avijeet Das
14. "Learn character from trees, values from roots, and change from leaves." – Tasneem Hameed
15. "The fall of leaves is an emblem of the decline of life." – R. Trevor
16. "The leaves are souls begging to turn life on pause. Begging to stop, begging to take a break, hiding under smiles and childish words." – Teodora Savu
Also read: Sky Quotes, Moon Quotes
Insightful Leaf Quotes to Change Your Perspective
17. "Anyone who thinks fallen leaves are dead has never watched them dancing on a windy day." – Shira Tamir
18. "In every change, in every falling leaf there is some pain, some beauty. And that's the way new leaves grow." – Amit Ray
19. "I am just a leaf. Just a leaf falling from the tree so that a new bud may grow." – Gemma Malley
20. "Anyone can love a rose, but it takes a lot to love a leaf. It's ordinary to love the beautiful, but it's beautiful to love the ordinary." – MJ Korvan
21. "Every falling leaf reminds me that I too will soon be separated from these trees. Trying to capture freedom is like trying to catch a falling leaf. Occasionally you may grab one out of the air and hold it in your hands, but now what?" – Daniel J. Rice
22. "There is not a single leaf which is a mere ornament; all contribute to the fruitfulness of the earth and the support of its inhabitants." – Christoph Christian Sturm
23. "There is an eternal love between the water drop and the leaf. When you look at them, you can see that they both shine out of happiness." – Mehmet Murat İldan
24. "The leaf and his body were one. Neither possessed a separate permanent self. Neither could exist independently from the rest of the universe." – Thich Nhat Hanh
25. "Rather than turning over a new leaf, prune your tree so that new leaves continue to blossom." – Feroz Bham
26. "An unfurling leaf is one of nature's greatest gifts. The present and the wrapping are one. And best of all, itself unwraps slowly revealing its mysterious beauty." – Khang Kijarro Nguyen
Also read: Plant Quotes
Cute Leaf Quotes
27. "Leaves are falling, autumn is calling." – Anonymous
28. "You're never too old to play in the leaves." – Anonymous
29. "Leaves leave this world in beautiful fall colors and songs." – Debasish Mridha
30. "I am a leaf on the wind—watch me soar." – Anonymous
31. "Leaves glow under a haze of sunlight, and hang still on a windless day." – Bremer Acosta
Leaf Quotes That Will Remind You of Autumn
32. "The autumn leaves fall faster than the trees grow faster." – Charles de Leusse
33. "Autumn is the hardest season. The leaves are all falling, and they're falling like they're falling in love with the ground." – Andrea Gibson
34. "There is something incredibly nostalgic and significant about the annual cascade of autumn leaves." – Joe L. Wheeler
35. "The heart of autumn must have broken here, and poured its treasure upon the leaves." – Charlotte Bates
36. "I hope I can be the autumn leaf, who looked at the sky and lived. And when it was time to leave, gracefully it knew life was a gift." – Dodinsky
37. "Autumn leaves shower like gold, like rainbows, as the winds of change begin to blow, signaling the later days of autumn." – Dan Millman
38. "I can smell autumn dancing in the breeze. The sweet chill of pumpkin, and crisp sunburnt leaves." – Ann Drake
39. "Autumn leaves don't fall, they fly. They take their time and wander on this their only chance to soar." – Delia Owens
40. "And the sun took a step back, the leaves lulled themselves to sleep, and autumn was awakened." – Raquel Franco
41. "Autumn is the second spring when every leaf is a flower." – Albert Camus
More Leaf Quotes for Your Inquisitive Mind
42. "I've seen a million miracles. They're all around. Every green leaf is a miracle." – Jimmy Dean
43. "Each day is a dry leaf, which never comes back to life again." – Shine Syamaladevi
44. "How beautiful the leaves grow old. How full of light and color are their last days." – John Burroughs
45. "The journey may be fraught with challenges, yet it continues, for even the smallest leaf must embrace destiny—persistence is the key." – Virginia Alison
46. "One of the great lessons the fall of the leaf teaches is this: do your work well and then be ready to depart when God shall call." – Tryon Edwards
47. "The leaf does not immediately absorb the drop of water falling on it; she slowly drinks with great pleasure!" – Mehmet Murat İldan
48. "I believe a leaf of grass is no less than a journey-work of the stars." – Walt Whitman
49. "Everyone must take time to sit and watch the leaves change." – Elizabeth Lawrence
50. "When the wind comes, the leaves get ready to take their first flight." – Anthony T. Hincks
Do You Find It Fascinating to Watch the Leaves Fall?
Leaves are of various shapes and sizes. They are also used in man's everyday life as ingredients for cooking, art, interior design, and many more. Leaves are so beneficial that they're even used as medicine in both ancient and modern times!
But, beyond the practical uses of leaves, they also give us many life lessons. Every Autumn, leaves fall from the trees. Though it ends one life, it's also the beginning of a new leaf's life.
This is where our saying of "turn a new leaf" comes from. It reminds us that even if we fail, there will always be an opportunity to grow and gain a vibrant life once again. 
We hope you were able to see just how vital leaves are both to the ecosystem and for our daily lives. Whenever you feel like you're stuck and have nowhere to go, reread these quotes and remind yourself that if a leaf can start all over again, so can you!
Which quotes are your favorites? Did you learn anything new from the collection? Please, leave a comment below!
Read Next: