Learn about the power of unconditional love by reading these mother–daughter quotes.
A mother and daughter relationship is bonded strongly by shared experiences and love. It is a connection that time will further deepen and nourish despite the misunderstandings and obstacles that may come their way.
But, there will be times when moms and daughters can feel disconnected.
Mistakes, wrong actions, and poor communication can build up and cause cracks that'll shake their relationship.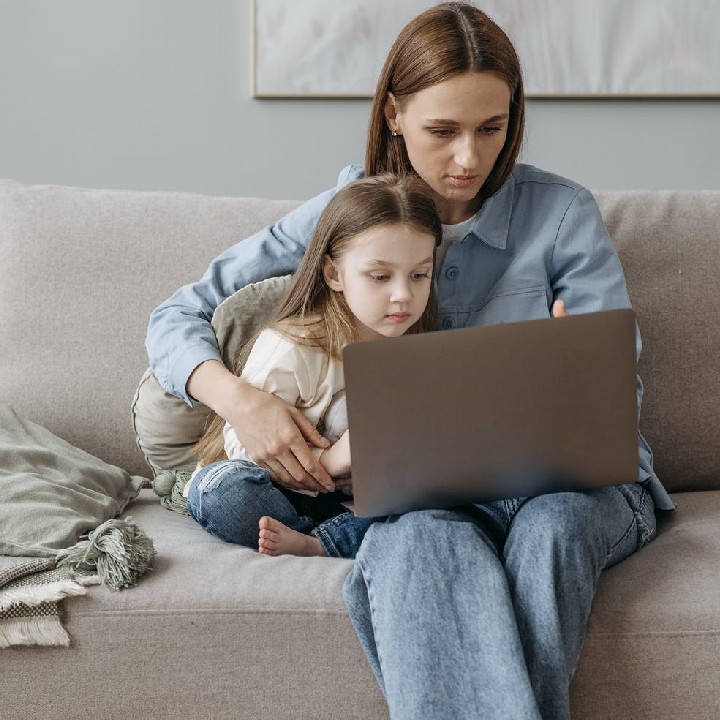 So, if you need some help to be closer to your mother or daughter, then add this to your must-read list now.
Keep reading below to reflect on your mother and daughter relationship.
Let's get started.
And don't forget to check out these mom quotes and baby quotes.
Best Mother–Daughter Quotes
1. "Mothers and daughters together are a powerful force to be reckoned with." – Melia Keeton-Digby
2. "A mother and a daughter always share a special bond, which is engraved on their hearts." – Anonymous
3. "Words are not enough to express the unconditional love that exists between a mother and a daughter." – Caitlin Houston
4. "A mother and a daughter have one soul for two, which can't be broken by time, obstacles, distance, and insults." – Anonymous
5. "No daughter and mother ever live apart, no matter what the distance between them." – Christie Watson
6. "Mother and daughter never truly part, maybe in distance, but never in heart." – Anonymous
7. "A mother's and daughter's love is never separated." – Viola Shipman
8. "Mothers are the most dynamic and influential force on the development of a young woman's journey to being herself." – Hillary L. McBride
9. "Mothers of daughters are daughters of mothers and have remained so, in circles joined to circles, since time began." – Signe Hammer
10. "The more a daughter knows the details of her mother's life, the stronger the daughter." – Anita Diamant
11. "The living mother–daughter relationship, you learn over and over again, is a constant choice between adaptation and acceptance." – Kelly Corrigan
Inspirational Mother–Daughter Quotes
12. "My mother shed her protective love down around me, and without knowing why, people sensed that I had value." – Maya Angelou
13. "Good daughters make good mothers." – Abigail Goodrich Whittelsey
14. "To my beautiful daughter, always remember, you are brave, you are capable, you are pretty, and you can accomplish anything your heart desires! I know this because I am your mother." – Anonymous
15. "It was easy for me to not feel beautiful in a world of prom queens, yet my mother was always reminding me of how worthy I was. I was a lucky daughter." – Brittainy C. Cherry
16. "A mother teaches her daughter how to feel about herself, about handling pressure, about relishing life's joys and conquering fears." – Melissa Harrison
17. "The relationship between parents and children, but especially between mothers and daughters, is tremendously powerful, scarcely to be comprehended in any rational way." – Joyce Carol Oates
18. "A mother–daughter bond is the perfect blessing, so that makes me one blessed mom because I have you." – Stephanie Lahart
19. "Of all the haunting moments of motherhood, few rank with hearing your own words come out of your daughter's mouth." – Victoria Secunda
20. "My mother, she is beautiful, softened at the edges, and tempered with a spine of steel. I want to grow old and be like her." – Jodi Picoult
Meaningful Mother and Daughter Quotes That'll Warm Your Heart
21. "Mother–daughter disagreements were, in hindsight, basically mother stating the truth and daughter taking her own sweet time coming around." – Barbara Delinsky
22. "A mother who radiates self-love and self-acceptance actually vaccinates her daughter against low self-esteem." – Naomi Wolf
23. "Mothers and daughters are closest when daughters become mothers." – Anonymous
24. "Mothering is a mysterious task. First, you create an intimate, all-consuming attachment with your daughter. Then you spend the rest of your life learning to let her go." – Judy Ford
25. "Mothers and daughters are part of each other's consciousness, in different degrees and in a different way, but still with the mutual sense of something which has always been there." – Edith Wharton
26. "The only love between a mother and a daughter can't be changed, and only this love has no limits. It grows with every single day and never fades." – Anonymous
27. "A mother is the only person in the world who can turn a daughter's worries and fears into happiness." – Anonymous
28. "A daughter without her mother is a woman broken. It is a loss that turns to arthritis and settles deep into her bones." – Letty Cottin Pogrebin
29. "Mother and daughter relationship is a special bond that spans the years. Through laughter, worry, smiles, and tears. A sense of trust that can't be broken, a depth of love sometimes unspoken." – Anonymous
30. "All mother's characteristics are absorbed by the daughter's personality so that it's not clear where the mother ends and the daughter begins. It's pure magic." – Anonymous
31. "The lives of a mother and a daughter are connected. A mother is the daughter's spine, she always supports her, and a daughter is the mother's blood, which makes her strong." – Anonymous
32. "A loving and careful mother both recognizes and even protects her daughter's autonomy and also helps her dance out confidently onto a wider stage." – Rachel Billington
33. "Many people may be replaced in the daughter's life, but nobody can take the mother's place." – Anonymous
34. "A daughter is a mother's gender partner, her closest ally in the family confederacy, an extension of herself. And mothers are their daughters' role model, their biological and emotional road map, the arbiter of all their relationships." – Victoria Secunda
Mother and Daughter Quotes That'll Fill You With Love
35. "The love between a mother and daughter is forever." – Anonymous
36. "Mother and daughter from the start, best friends forever from the heart." – Anonymous
37. "Mother–daughter love: the definition of forever." – Anonymous
38. "A daughter makes a mother's life brighter, and the mother makes daughter's life warmer." – Anonymous
Also read: True Love Quotes
Mother and Daughter Quotes to Strengthen Your Bond
39. "A mother's treasure is her daughter." – Catherine Pulsifer
40. "A mother is not a person to lean on but a person to make leaning unnecessary." – Dorothy Canfield Fisher
41. "A mother's arms are more comforting than anyone else's." – Princess Diana
42. "A mom is a daughter's 'first' friend. And, through life, becomes her best friend." – Vicki Reece
43. "The mother–daughter relationship is the most complex." – Wynonna Judd
Also read: Proud Mom Quotes
Mother to Daughter Quotes
44. "To my beautiful daughter, always remember, you are brave, you are capable, you are pretty, and you can accomplish anything your heart desires! I know this because I am your mother." – Anonymous
45. "I am not a perfect mother, and I will never be. You are not a perfect daughter, and you will never be. But put us together, and we will be the best mother and daughter we would ever be." – Zoraida Pesante
46. "My daughter, while we have had adversity, we also have had more sweet memories that allow us to overcome the challenges we faced." – Ann Butler
47. "Dear daughter, don't concern yourself with fitting into glass slippers. Think instead of shattering glass ceilings." – Anonymous
48. "You are my daughter, not of my blood, but of my heart." – Elizabeth Lim
Daughter to Mother Quotes
49. "Mama, you taught me to do the right things. So now, you have to let your baby fly. You've given me everything that I will need to make it through this crazy thing called life." – Carrie Underwood
50. "I can be not the best daughter for you because I know how many troubles you've experienced with me. But I want to tell you that to me, you are the best mom ever." – Anonymous
51. "You're a very special lady who showered me with love. I am thankful for you as I've told God above." – Charly Lester
52. "I miss thee, my mother! Thy image is still. The deepest impressed on my heart." – Eliza Cook
Mother–Daughter Quotes to Know What Moms Feel
53. "In my daughter's eyes, I am a hero. I am strong and wise, and I know no fear. But the truth is plain to see, she was sent to rescue me." – Martina McBride
54. "My daughter introduced me to myself. The connection I had with her when I was giving birth was something I've never felt before." – Beyoncé
55. "As they get older, our daughters become more and more like us too." – Amy Newmark
56. "I love our daughters more than anything in the world, more than life itself. So for me, being mom-in-chief is, and always will be job number one." – Michelle Obama
57. "Our daughters are the most precious of our treasures, the dearest possessions of our homes, and the objects of our most watchful love." – Margaret Elizabeth Sangster
Mother–Daughter Quotes to Understand Your Little Girls
58. "I love my mother as trees love water and sunshine. She helps me grow, prosper, and reach great heights." – Terri Guillemets
59. "A mother's love is like an everlasting bed of roses that continues to blossom. A mother's love bears strength, comfort, healing, and warmth. Her beauty is compared to a sunny day that shines upon each rose petal and inspires hope." – Ellen J. Barrier
60. "My mother wanted me to be her wings, to fly as she never quite had the courage to do. I love her for that. I love the fact that she wanted to give birth to her own wings." – Erica Jong
61. "I like it when my mother smiles, and I especially like it when I make her smile." – Adriana Trigiani
62. "Maybe I stepped into the skin my mother left behind and became the girl my mother had been, the one she still wanted to be." – Laura Kasischke
63. "As mothers and daughters, we are connected with one another. My mother is the bones of my spine, keeping me straight and true. She is my blood, making sure it runs rich and strong. She is the beating of my heart. I cannot now imagine a life without her." – Kristin Hannah
Mother–Daughter Quotes That'll Remind You of Your Relationship
64. "No one in this world can love a girl more than her mother." – Michael Ratnadeepak
65. "We mothers are learning to mark our mothering success by our daughters' lengthening flight." – Letty Cottin Pogrebin
66. "A daughter will always be the closest person in the world for her mother because only she saw the heart of her mother from the inside." – Anonymous
67. "Mothers, look after your daughters, keep them near you, keep their confidence that they may be true and faithful." – Elmina Shepard Taylor
Funny Mother–Daughter Quotes
68. "By the time you realize your mother was right, you have a daughter who thinks that you're wrong." – Sudha Malhotra
69. "What's it like to have the greatest daughter in the world? I don't know, ask your grandmother." – Anonymous
70. "Mother and daughter got on very well indeed, with a deep affection founded on an almost complete misunderstanding." – Mary Stewart
How Is Your Relationship With Your Mother or Daughter Right Now?
Sometimes, we can be so busy that we tend to forget to check up on our loved ones. We get too caught up in our dreams and goals that we neglect the deep relationships we should cultivate.
For some, these struggles may exist inside a mother and daughter relationship. We may be overwhelmed with life. But, let's not sacrifice our relationships for anything.
Especially as a woman, learning from mothers is one way of preparing yourself for the reality of life. They serve as guides and warm hugs of comfort that will always lift you on your lowest and darkest days.
With that, we hope these quotes were able to make you realize just how precious your mom or daughter is. Remember, they each have enormous roles in our lives that we can never compare to others.
Which mother–daughter quote is your favorite? Which one warmed your heart the most? Comment below.
Read Next: