This collection of moving on quotes is perfect for everyone going through a rough patch in life!
No one has lived a perfect life. We've all gone through many twists and turns that have left us confused, sad, or in pain.
An example of these would be a failure on our way to success or a breakup. We understand that it's painful and hard to let go, but you must realize that moving on is part of life.
If you're already getting hurt in a relationship or if you made a mistake in your journey toward your goals, it's time to move on. Being in love means being with someone who makes you feel secure, loved, and confident.
Once your partner makes you uncomfortable or insecure, you should start thinking about whether you want to hold on to that kind of relationship or just let go and move forward. In the same way, we shouldn't get hung up on our mistakes when working toward our goals.
There will be countless roadblocks, and it's a part of life to fail occasionally. This is why you must read our collection of moving on quotes below; it'll help you gain a better mindset toward these things!
And don't forget to check out these letting go quotes and hurt quotes.
Best Moving on Quotes
1. "Take all the time you need to heal emotionally. Moving on doesn't take a day; it takes lots of little steps to be able to break free of your broken self." – Tere Arigo
2. "Moving on doesn't mean you forget about things; it just means you have to accept what happened and continue living." – Erza Scarlet
3. "In order to move on, you must understand why you felt what you did and why you no longer need to feel it." – Mitch Albom
4. "Moving on is not forgetting—moving on is being able to remember without feeling awful about it." – Sam Madison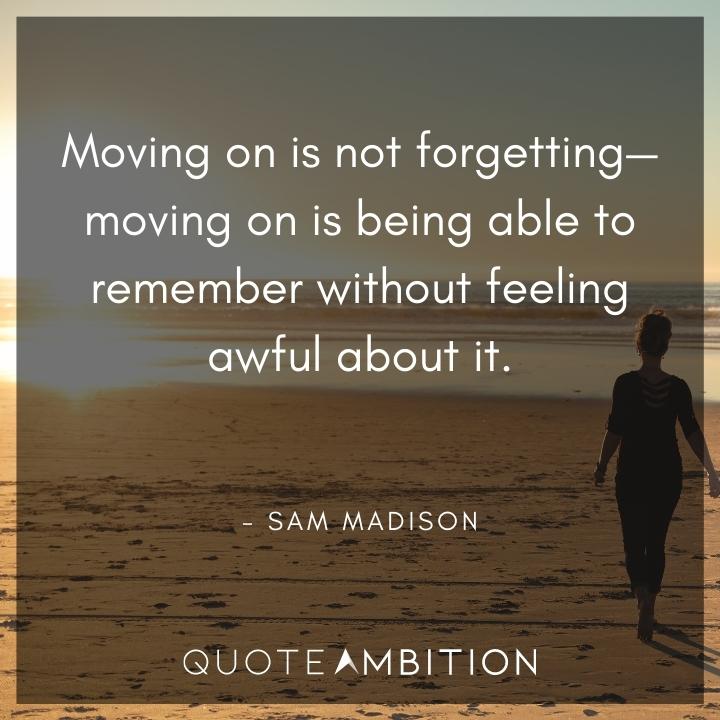 5. "Life is short. You have to be able to laugh at our pain, or we never move on." – Jeff Ross
6. "You must make a decision that you are going to move on. It won't happen automatically. You will have to rise up and say, 'I don't care how hard this is, I don't care how disappointed I am, I'm not going to let this get the best of me. I'm moving on with my life.'" – Joel Osteen
7. "Every day is a new day, and you'll never be able to find happiness if you don't move on." – Carrie Underwood
8. "You can spend minutes, hours, days, weeks, or even months over-analyzing a situation; trying to put the pieces together, justifying what could've, would've happened—or you can just leave the pieces on the floor and move on." – Tupac Shakur
9. "Someone once told me that just because you can't have the life you wanted, you shouldn't give up and fade out of existence. That's how we become living ghosts—by never moving on." – Roshani Chokshi
Move on Quotes to Give You Some Advice
10. "Move on. Where there is hope, there is a way." – Anonymous
11. "Moving on means we have to protect ourselves." – Jojo Moyes
12. "Should've, could've, would've, but you didn't. So you move on." – Dominic Riccitello
13. "Moving on is not about forgetting the past; it's about learning from it. Find the message in the mess. Cry. Forgive. Learn. Move on. Let your tears water the seeds of your future happiness." – Steve Maraboli
14. "People can be more forgiving than you can imagine. But you have to forgive yourself. Let go of what's bitter and move on." – Bill Cosby
15. "I really believe in, 'Move on, live and let live, forgive and forget.'" – Kate Winslet
16. "It happens to everyone as they grow up. You find out who you are and what you want, and then you realize that people you've known forever don't see things the way you do. So you keep the wonderful memories, but find yourself moving on." – Nicholas Sparks
17. "Be honest about how you approach failure. Don't just be critical of yourself, because that can be self-serving. Approach it honestly, assess your performance, and assess the areas where you have fallen short. Correct them and move on. Don't dwell on it. Don't hold on to it." – Megan Rapinoe
Quotes About Moving On
18. "Moving on is easy. It's staying moved on that's trickier." – Katerina Stoykova Klemer
19. "The pain of letting go will be eclipsed by the relief of moving on." – Scott Stabile
20. "You really don't have to burn any bridges to let go. You don't have to destroy anything. You can just decide to cross over and move on." – Marta Mrotek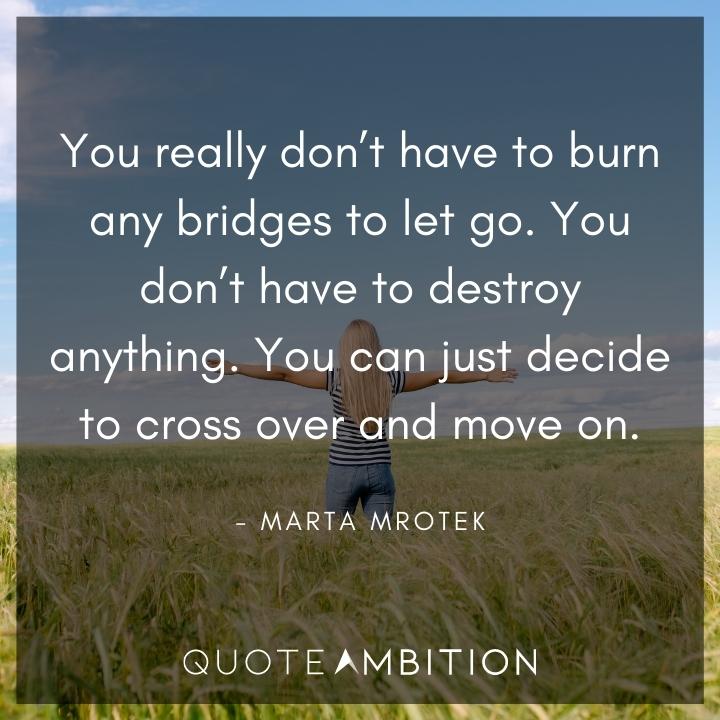 21. "Moving on will show you a lot about who you are, what you truly want, and what you have no desire to waste your time on." – April Mae Monterrosa
22. "By forgiving and choosing to move on, one takes the power back to morph it into positive energy." – Eugenia Tripputi
Moving on Quotes for Those in Relationships
23. "Sometimes you have to move on without certain people. If they're meant to be in your life, they'll catch up." – Mandy Hale
24. "Letting go doesn't mean giving up; it means moving on." – Toni Sorenson
25. "Just because you miss someone doesn't mean you need them back in your life. Missing is just a part of moving on." – Mackelmore
26. "You must take care of yourself first, and if that difficult person does not get fit in your life, you should move on." – Anonymous
27. "Relationships are all about trust in each other. When you have to become a detective, then it's time to move on." – Anonymous
28. "Imagine a future where you hold no grudges towards anyone. You're not angry at past lovers, not bitter about failures, not disappointed in your parents. You forgive, send love, and move on. You're free." – Charlotte Eriksson
29. "The most difficult aspect of moving on is accepting that the other person already did." – Faraaz Kazi
Quotes About Moving on in Life
30. "One must move on in any situation of life. The time is not going to stop anyway." – Anonymous
31. "Life is about making the right decisions and moving on." – Josh Rayburn
32. "Life is a journey, and while you move on, keep unloading your emotional baggage on the sides of the roads. If you will not, this will get heavier and heavier, and it will be difficult for you to move ahead in life." – Anonymous
33. "You are responsible for your life. You can't keep blaming somebody else for your dysfunction. Life is really about moving on." – Oprah Winfrey
34. "I can enjoy anywhere, and I can leave it. Life is about moving on." – Waris Dirie
35. "The sound of geese flying overhead is the sound of life moving on." – Marty Rubin
36. "The choice isn't to move on—life moves whether I want it to or not. No, the choice is to look forward, not backward, to take a step because refusing to move won't draw the past nearer, only postpone better days." – Caroline George
37. "Expect trouble as an inevitable part of life and repeat to yourself, the most comforting words of all: this, too, shall pass." – Ann Landers
38. "A very wise man once told me that you can't look back—you just have to put the past behind you, and find something better in your future." – Jodi Picoult
Short Moving on Quotes
39. "Moving on is a simple thing; what it leaves behind is hard." – Dave Mustaine
40. "Life moves on, and so should we." – Spencer Johnson
41. "Forgive yourself for your faults and your mistakes and move on." – Les Brown
42. "Part of the game is moving on. And you do." – Chris Hughton
43. "But part of surviving is being able to move on." – Alexandra Bracken
44. "Moving on is self-care, which is intelligence." – Maxime Lagacé
Moving on Quotes for Him and Her
45. "Gather your strength, woman. And move on." – Mitta Xinindlu
46. "Girls, you've gotta know when it's time to turn the page." – Tori Amos
47. "Well, I just get as close as I can to a happy ending, then I shut the door behind me and move on." – James Goss
48. "No reason. Some things just are, and that's all there is to it. Some things you just have to accept and move on from." – A.F. Harrold
49. "No matter how bad you want a person, if your hearts are in two different places, you'll have to pass and move on." – Alexandra Elle
Moving on Quotes to Help You Accept Your Breakup
50. "Lots of things can be fixed. Things can be fixed. But many times, relationships between people cannot be fixed, because they should not be fixed. You're aboard a ship setting sail, and the other person has joined the inland circus or is boarding a different ship, and you just can't be with each other anymore. Because you shouldn't be." – C. Joybell C.
51. "I think it's important to have closure in any relationship that ends—from a romantic relationship to a friendship. You should always have a sense of clarity at the end and know why it began and why it ended. You need that in your life to move cleanly into your next phase." – Jennifer Aniston
52. "One of the best times for figuring out who you are and what you really want out of life? Right after a breakup." – Mandy Hale
53. "The thing about heartbreak, I realized, is it's not really about waiting for things to stop hurting before you start moving. A broken heart can and will heal in time, but for time to actually do its job, I needed to acknowledge what I had lost and move on." – Ana Tejano
54. "After a breakup, it takes a couple of weeks for the fog to settle, but it's always a period of self-priority and growth. Life presents you with so many decisions. A lot of times, they're right in front of your face, and they're really difficult, but we must make them." – Brittany Murphy
55. "The cure for a broken heart is simple, my lady. A hot bath and a good night's sleep." – Margaret George
More Moving on Quotes That'll Help You Smile and Be Happy Again
56. "You build on failure. You use it as a stepping stone. Close the door on the past. You don't try to forget the mistakes, but you don't dwell on them. You don't let it have any of your energy, or any of your time, or any of your space." – Johnny Cash
57. "Sometimes, difficult, narcissistic, and toxic people start affecting your day-to-day life too much. It's a time to remove them from your life completely and move on." – Anonymous
58. "Grudges are for those who insist that they are owed something; forgiveness, however, is for those who are substantial enough to move on." – Criss Jami
59. "It is only through labor and painful effort, by grim energy and resolute courage, that we move on to better things." – Theodore Roosevelt
60. "The curtain has fallen on the past, the performance has gone dark, and the actors have moved on. Applaud the show, but don't stay in the dark, hoping for a reprisal that will never come. It's time to get up and move toward the next act, the one that stars you." – Toni Sorenson
Did These Quotes Help You Gain the Courage to Face Change in Your Life?
Getting hung up on painful experiences is easy. However, we should all know better and recognize when it's time to move on.
If we get stuck in a negative headspace after a failure or a breakup, we'll never truly be able to let go and move forward. We must forgive, forget, and move on from the past that has hurt us so we can heal.
Recognizing when it's time to move on is hard, but we hope the moving on quotes we've compiled were able to give you some ideas. Remember, once you move on, you'll open doors filled with new opportunities for yourself.
Coupled with that, you allow yourself a chance to smile and be happy again. Life, after all, is all about enjoying every moment; how can you do that if you're stuck in the past?
Whenever you're faced with a breakup or if you fail on the way to your dreams, just remember that it's okay and you just have to try again. Keep this collection in your bookmarks so you can easily find advice whenever needed!
Read Next: