If you're a fan of Al Pacino, you'll enjoy the Scarface quotes we've listed below!
Scarface was loosely based on the 1929 novel of the same name; it's also a remake of the 1932 movie adaptation. Though they have their differences, what's common among all three is that they all talk about crime, power, and influence.
Many fans of The Godfather are also fans of Scarface because it cast Al Pacino as Tony Montana. After all, he's the actor who gave life to Michael Corleone.
Contrary to The Godfather, where the Corleones hold significant influence from the get-go, Scarface's Tony Montana is a Cuban refugee who had nothing when he arrived in Miami. Only after much struggle did he find work as a dishwasher in a restaurant.
However, Tony Montana wanted more. He believed that he was meant for something greater!
Tony didn't allow anyone to stand in his way, and eventually, he became one of the city's most powerful drug lords. If this sneak peek made you curious, check out the complete list of Scarface quotes below!
And make sure to read these gangster quotes and Carlito's Way quotes.
Best Scarface Quotes
1. "Every day above ground is a good day." – Mel Bernstein
2. "What you lookin' at? You all a bunch of f*ckin' *ssholes. You know why? You don't have the guts to be what you wanna be? You need people like me. You need people like me so you can point your f*ckin' fingers and say, 'That's the bad guy.' So what that make you? Good? You're not good. You just know how to hide, how to lie. Me, I don't have that problem. Me, I always tell the truth—even when I lie. So say good night to the bad guy! Come on. The last time you gonna see a bad guy like this again, let me tell you. Come on. Make way for the bad guy. There's a bad guy comin' through! Better get outta his way!" – Tony Montana
3. "Okay, here's the story. I come from the gutter. I know that. I got no education, but that's okay. I know the street, and I'm making all the right connections. With the right woman, there's no stopping me. I could go right to the top." – Tony Montana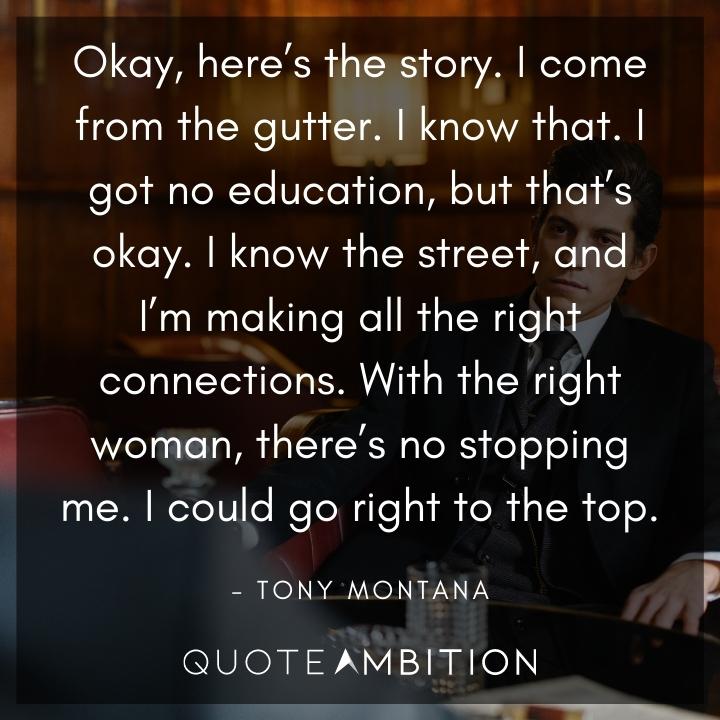 4. "Every dog has his day." – Tony Montana
5. Tony Montana: "Me, I want what's coming to me."
Manny Ribera: "Oh, well, what's coming to you?"
Tony Montana: "The world, chico, and everything in it."
6. "I never f*cked anybody over in my life didn't have it coming to them. You got that? All I have in this world is my balls and my word, and I don't break them for no one. Do you understand? That piece of sh*t up there, I never liked him, I never trusted him. For all I know, he had me set up and had my friend Angel Fernandez killed. But that's history. I'm here, he's not. You wanna go on with me, you say it. You don't, then you make a move." – Tony Montana
Famous Scarface Quotes
7. "The f*ckin' country was built on washing money." – Tony Montana
8. "You know what capitalism is? Getting f*cked!" – Tony Montana
9. "In this country, you gotta make the money first. Then when you get the money, you get the power. Then when you get the power, then you get the women." – Tony Montana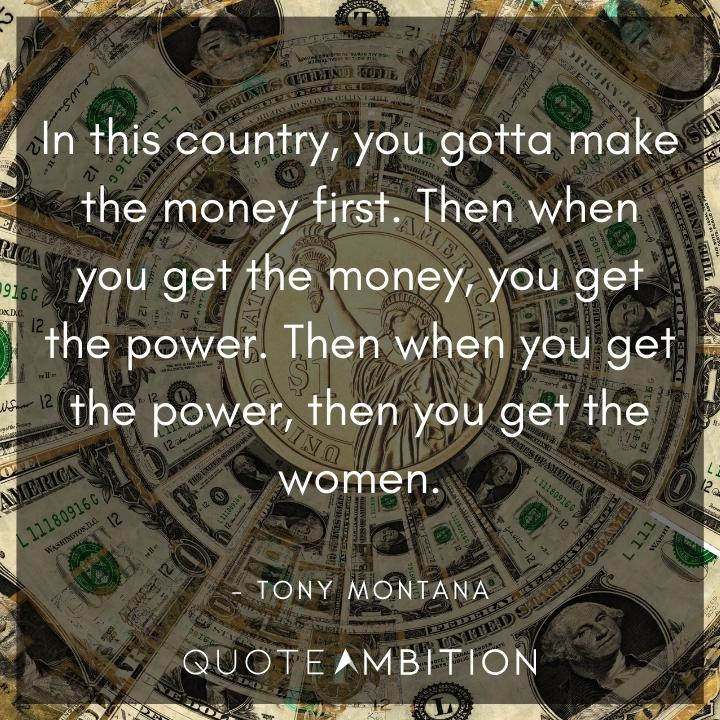 10. "I kill a communist for fun, but for a green card, I'm gonna carve him up real nice." – Tony Montana
11. "Okay, Sosa. You wanna f*ck with me? You f*cking with the best! You wanna f*ck with me? Okay. You little cockroaches, come on. You wanna play games? Okay, I play with you; come on. Okay. You wanna play rough? Okay. Say hello to my little friend!" – Tony Montana
Scarface Sayings About Life and Business
12. "I only tell you once. Don't f*ck me, Tony. Don't you ever try to f*ck me." – Alejandro Sosa
13. "Nothing exceeds like excess. You should know that, Tony." – Elvira Hancock
14. Hector the Toad: "Where are you from, Tony?"
Tony Montana: "What the f*ck difference does that make on where I'm from?"
Hector the Toad: "Coño, Tony! I'm just asking just so I know who I'm doing business with."
Tony Montana: "Well, you can know about me when you stop f*cking around and start doing business with me, Hector!"
15. Frank Lopez: "Lesson number one: don't underestimate the other guy's greed!"
Elvira Hancock: "Lesson number two: don't get high on your own supply."
16. "You wanna waste my time? Okay. I call my lawyer. He's the best lawyer in Miami. He's such a good lawyer, that by tomorrow morning, you gonna be working in Alaska. So dress warm." – Tony Montana
Sarcastic Scarface Quotes to Ponder On
17. "The only thing in this world that gives orders is balls." – Tony Montana
18. "You worry too much. You're gonna have a heart attack." – Tony Montana
19. "Who put this thing together? Me, that's who! Who do I trust? Me!" – Tony Montana
20. "You a communist? Huh? How'd you like it, man? They tell you all the time what to do, what to think, what to feel. Do you wanna be like a sheep? Like all those other people? Baah! Baah!" – Tony Montana
21. "So do you want to dance, Frank, or do you want to sit there and have a heart attack?" – Elvira Hancock
22. Omar Suarez: "Watch my back."
Tony Montana: "Better than your front, lemme tell you. Much easier to watch."
Scarface Quotes About Love and Relationships
23. Tony Montana: "You know what your problem is?"
Elvira Hancock: "What's that?"
Tony Montana: "You don't got nothing to do with your life. Why don't you get a job? Work with lepers. Blind kids. Anything's gotta be better than lying around all day waiting for me to f*ck you."
Elvira Hancock: "Don't toot your horn, honey. You're not that good."
24. Tony Montana: "Hey, baby, what is your problem? Huh, you got a problem? You're good-looking, you got a beautiful body, beautiful legs, beautiful face, all these guys in love with you. Only you got a look in your eye like you haven't been f*cked in a year!"
Elvira Hancock: "Hey, Jose. Who, why, when, and how I f*ck is none of your business, okay?"
25. Elvira Hancock: "I'm not going home with anybody! I'm going home alone. I'm leaving you. I don't need this sh*t anymore."
Manny Ribera: "Okay, I'll walk you out. I'll take her home in a cab."
Tony Montana: "Let her go, let her go. Another Quaalude, she gonna love me again."
Which Aspect of Scarface Got You Hooked?
Dealing with drugs and anything illegal is not the right way to attain power and influence. Even so, it's through this that Scarface teaches us about life and success.
In the movie, Tony Montana has had it hard. To survive, he had to flee his home country and live an entirely new life in a foreign land; this alone is daunting.
Yet, Tony believed he was meant for bigger things. So, even if he had to get his hands dirty, he did everything he could to reach the top!
One of his most memorable quotes goes, "All I have in this world is my balls and my word, and I don't break them for no one." When everything material is stripped from you, one of the only things that would be left is your determination to keep going.
Through this, Scarface teaches us that taking risks is the only way to find and use opportunities. Nothing will come from waiting and sitting idly; you must live on the edge and grab life by its horns!
This is just a sneak peek of what everyone could learn from Scarface. So, keep this collection in your bookmarks and revisit it whenever you need new advice on life!
Read Next: