These mindset quotes are perfect for everyone who wants to shape themselves into people destined for greatness.
At the very core of success—of any form—lies mindset. Action, effort, and hard work are all necessary to reach the top. But, having the right attitude is what will really serve as your foundation for success.
After all, everything starts in the mind. Our dreams come from our minds and our imaginations, and we can only become what we think about.
If we don't put it in our heads that we can be great, then we can never act toward that greatness.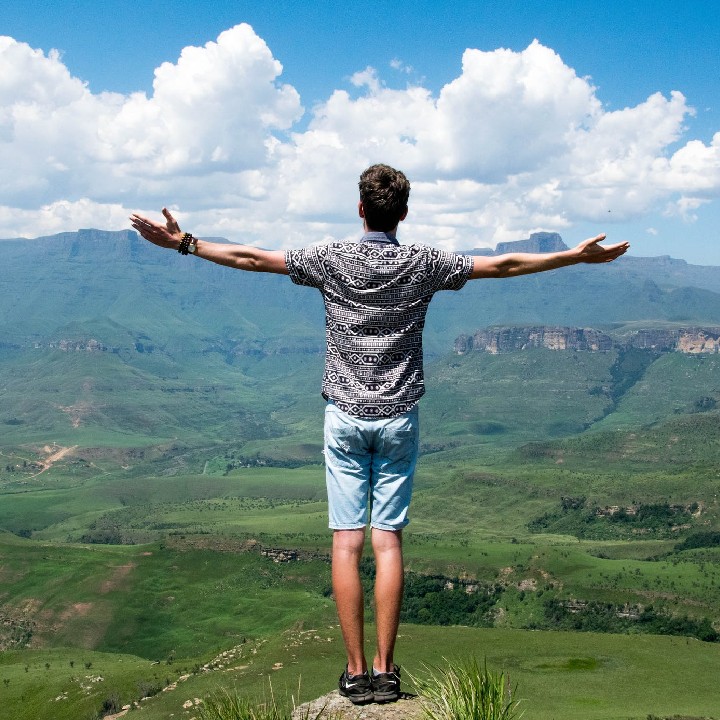 So, what are you waiting for?
Condition your mind and self for all the good and positive things that the future holds by reading this list of the best mindset quotes.
Read through to the end and understand what you have to change about your way of thinking.
Let's continue to the complete list below.
And don't forget to check out these success quotes and encouraging quotes.
Best Mindset Quotes
1. "Once your mindset changes, everything on the outside will change along with it." – Steve Maraboli
2. "Keep your mindset strong, your heart pure, your intentions kind, and your dreams big." – Nikki Rowe
3. "Nothing is given to you. Everything is earned. You have to have that mindset that you have to work every single day. Learn every single day." – Saquon Barkley
4. "Without the right mindset, there is no chance that anyone can reach their potential." – James Atkinson
5. "Your mindset determines how you perceive and connect to the world around you." – Joseph Taylor
6. "To create something exceptional, your mindset must be relentlessly focused on the smallest detail." – Giorgio Armani
7. "Changing your mindset is more important than changing your circumstance." – Akiroq Brost
8. "Your mindset matters. It affects everything⁠—from the business and investment decisions you make, to the way you raise your children, to your stress levels and overall well-being." – Peter Diamandis
Powerful Mindset Quotes
9. "Changing your mindset may change the situation." – Lisa Rusczyk
10. "Think of your mindsets as your foundation. With a solid foundation, you can build something amazing and strong." – Dave Perrotta
11. "Anyone can train to be a gladiator. What marks you out is having the mindset of a champion." – Manu Bennett
12. "A positive or winning mindset can often mean the difference between success or failure in any endeavor." – Anthony T. Galie
13. "Today, I am telling you: you have the authority to change your mindset and become more positive." – Robert Norman
14. "Eliminate the mindset of can't! Because you can do anything!" – Tony Horton
15. "Mindset is everything. Like the eye of a storm⁠—find the sunshine and calm within you, even if there is chaos outside of you." – Brittany Burgunder
Also read: Powerful Quotes, Positive Quotes
Short Mindset Quotes
16. "Happiness depends on your mindset and attitude." – Roy T. Bennett
17. "Changing the game is a mindset." – Robert Rodriguez
18. "A positive mindset is one of the attributes of successful people." – Sandra Leon
19. "It takes different mindsets to do different things." – Henry Mancini
20. "Being rich and successful always starts with your mindset." – William Scaec
21. "Change your ordinary mindset to think extraordinary." – Deep Pandey
22. "The most difficult thing is changing people's mindset." – Arunachalam Muruganantham
23. "If you can build a muscle, you can build a mindset." – Jay Shetty
24. "Nothing will slow your progress like a negative mindset." – Anonymous
Also read: Short Quotes, Winning Quotes
Mindset Quotes to Improve Your Life
25. "If you are ready to take your game to the next level, you gotta change that mindset." – Eric Thomas
26. "If you can manipulate your mindset and begin viewing obstacles as opportunities, you'll have better confidence when entering the situation." – Lora Jets
27. "If ever you think that you're losing control of a situation, just shift your mindset and watch your situation change." – Dr. Amelia Rose
28. "It is easier for one to take risks and to chase his dreams with a mindset that he has nothing to lose. In this lies the immense passion, the great advantage of avoiding a materialistic, pleasure-filled way of life." – Criss Jami
29. "A positive mindset can build a positive physical and mental structure for an amazing life." – Hormuzd Dossabhoy
Also read: Quotes to Live By, Quotes That Make You Think
Mindset Quotes for Positive Change
30. "Happiness has to do with your mindset, not with outside circumstance." – Steve Maraboli
31. "By developing a positive mindset, you get freedom from all the negativity inhabiting your mind." – Benjamin Smith
32. "With time, your positive mindset helps to liberate you from the negativity rooted inside you, making you strong enough to stand on your own and put an end to pessimism for once." – Benjamin Smith
33. "A positive mindset in failure means that failure becomes the greatest teacher available." – Byron Pulsifer
34. "I truly believe in positive synergy⁠—that your positive mindset gives you a more hopeful outlook, and belief that you can do something great means you will do something great." – Russell Wilson
Also read: Growth Mindset Quotes, Abundance Mindset Quotes
Wise Mindset Quotes That'll Lead You to Success
35. "Success is a mindset. Let's learn how to create a positive one." – Beau Norton
36. "Optimistic people with a growth mindset always find a way." – Kevin J. Donaldson
37. "Know how to change your mindset so that you can steer it towards success." – Lora Jets
38. "I've never known a person who was successful that didn't at first establish a mindset of success. You can't be that which you can't believe." – Byron Pulsifer
39. "It takes a different mindset to be successful in anything; that's why there's not a lot of super-duper successful people, because it's guys I know who are maybe 10 times more talented than me, but they don't work as hard." – Rico Love
Meaningful Mindset Quotes to Change Your Perspective
40. "When you retire, you will find your mindset changes from one of routine to one of freedom." – Kate Summers
41. "Having a clear mental image of our goals will point us in the right direction. Having a strong mindset will help us mold our attitudes, behaviors, expectations, and actions." – John Franz
42. "It's sort of a mental attitude about critical thinking and curiosity. It's about the mindset of looking at the world in a playful and curious and creative way." – Adam Savage
43. "My dad encouraged us to fail. Growing up, he would ask us what we failed at that week. If we didn't have something, he would be disappointed. It changed my mindset at an early age that failure is not the outcome; failure is not trying. Don't be afraid to fail." – Sara Blakely
Mindset Quotes for Work
44. "When you are around people that have the same mindset as you do, it helps encourage you to work towards your goals even more." – Michael Henson
45. "Being an entrepreneur is a mindset. You have to see things as opportunities all the time." – Soledad O'Brien
46. "I try to work on all aspects of my game, whether it be run or pass. I think you can never stop growing, and I definitely take that mindset. You've just got to keep on grinding." – D'Brickashaw Ferguson
47. "Leadership is a mindset that shifts from being a victim to creating results. Any one of us can demonstrate leadership in our work and within our lives." – Robin S. Sharma
Mindset Quotes That You Need to Reflect On
48. "I think anything is possible if you have the mindset and the will and desire to do it and put the time in." – Roger Clemens
49. "'No fear' is a mindset that I stand for. It's the reason why I've got to where I am today." – Skepta
50. "While the people with fixed mindsets let their intelligence and talent define them, the growth mindset-oriented people know that with hard work and practice, they can be good at anything." – Timo Kiander
51. "In the fixed mindset, everything is about the outcome. If you fail—or if you're not the best—it's all been wasted. The growth mindset allows people to value what they're doing regardless of the outcome. They're tackling problems, charting new courses, and working on important issues. Maybe they haven't found the cure for cancer, but the search was deeply meaningful." – Carol S. Dweck
Mindset Quotes to Help You Grow as a Person
52. "Everything begins from the mind, including change. So, if you want to alter your life, you have to start with your mindset." – Alexi Weaver
53. "If you want to take the reins and control your life, it is important that you embrace the importance of having a strong positive mindset." – John Franz
54. "Develop the mindset of conciliation with others rather than leaning into confrontation. Learn to establish common ground rather than looking for areas of disagreement." – Byron Pulsifer
55. "No matter what, people grow. If you choose not to grow, you're staying in a small box with a small mindset. People who win go outside of that box. It's very simple when you look at it." – Kevin Hart
56. "Individuals in a growth mindset don't simply look for a challenge; they blossom with it. The greater the challenge, the more they stretch." – K. Orient
Other Mindset Quotes That Will Have Your Mind Reeling
57. "Your mindset filters the information you receive and often can prevent you from communicating and listening actively and objectively." – Clive Harman
58. "If you start with the mindset that you know nothing, you will learn a lot that nobody knew before." – David Maraniss
59. "The passion for stretching yourself and sticking to it, even⁠—or especially⁠—when it's not going well, is the hallmark of the growth mindset. This is the mindset that allows people to thrive during some of the most challenging times in their lives." – Carol S. Dweck
60. "Not everyone can just jump right into something new and change their mindset at the drop of a hat." – Joseph Taylor
Do You Believe That You Have What It Takes to Lead a Happy and Successful Life?
While success comes in many forms, one thing remains true: our mindset must be geared toward the positive things in life. We all know how busy our minds can get, but if we let negative thoughts occupy our heads for too long, then our mindset will undoubtedly be affected too.
Once in a while, make sure you take a break and reevaluate the goals in your mind. Does your way of thinking open your eyes to the possibilities you can reach? Is your every action leading you one step closer to your desired output?
If your answer to these questions is no, you might want to reframe your mind. Put good things into your head to produce favorable results. Apart from that, know that you have it within you to overcome any roadblock ahead.
Having this win-it-all attitude is key to getting closer to your dreams. Always keep in mind that no matter how big or small of a goal you might have, everything always starts with a good mindset. When you need a reminder of that fact, feel free to revisit this list!
Read Next: