These mindset quotes can help you develop a healthy mind and a positive attitude in the face of adversity.
Maintaining a positive mindset can help you in overcoming obstacles.
More than this, a positive and strong mentality can go a long way, especially when coping with life's challenges.
Life will always be difficult, and we need to be ready to face the challenges ahead.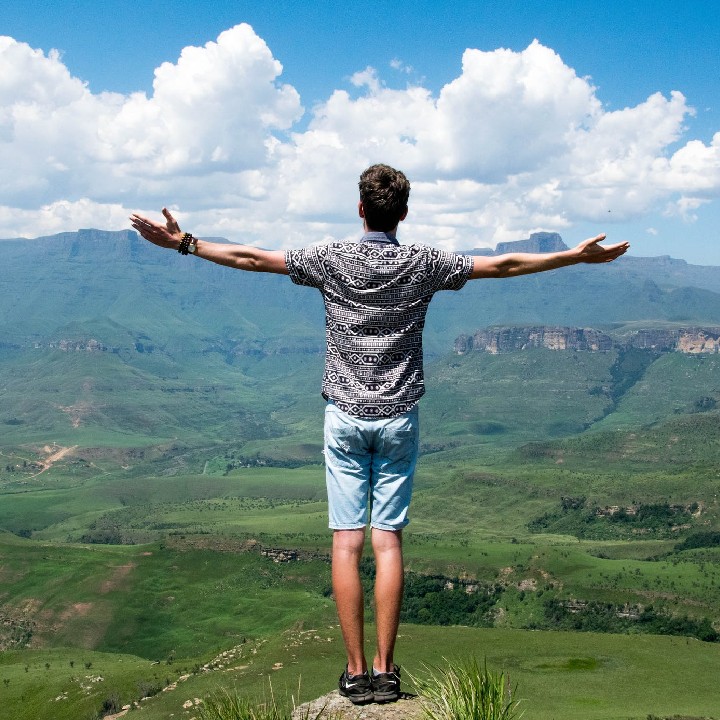 Read the entire collection below to learn more about how having the correct mindset can help you!
Start reading here.
And don't forget to check out these success quotes and encouraging quotes.
Best Mindset Quotes
1. "Know how to change your mindset so that you can steer it towards success." – Lora Jets
2. "What you feed your mind, will lead your life." – Kemi Sogunle
3. "Happiness depends on your mindset and attitude." – Roy T. Bennett
4. "Once your mindset changes, everything on the outside will change along with it." – Steve Maraboli
5. "Changing your mindset may change the situation." – Lisa Rusczyk
6. "Being rich and successful always starts with your mindset." – William Scaec
7. "Success is a mindset. Let's learn how to create a positive one." – Beau Norton
8. "It's sort of a mental attitude about critical thinking and curiosity. It's about the mindset of looking at the world in a playful and curious and creative way." – Adam Savage
9. "Change your fear to motivation―Cuban says that when you're faced with a crisis situation, you have to convert your adrenalin to a determined mindset." – Warren Phan
10. "Change management has its roots in a changed mindset." – Byron Pulsifer
11. "I think anything is possible if you have the mindset and the will and desire to do it and put the time in." – Roger Clemens
12. "If you can manipulate your mindset and begin viewing obstacles as opportunities, you'll have better confidence when entering the situation." – Lora Jets
13. "If you saturate your mind with positive thoughts, it will sustain you in any situation." – Lailah Gifty Akita
14. "Individuals in a growth mindset don't simply look for challenges, they blossom with it. The greater the challenge, the more they stretch." – K. Orient
15. "Everything begins from the mind, including change. So, if you want to alter your life, you have to start with your mindset." – Alexi Weaver
Also read: Deep Meaningful Quotes
Famous Mindset Quotes
16. "A positive mindset is one of the attributes of successful people." – Sandra Leon
17. "Leadership is a mindset that shifts from being a victim to creating results. Any one of us can demonstrate leadership in our work and within our lives." – Robin S. Sharma
18. "If you want to take the reins and control your life, it is important that you embrace the importance of having a strong positive mindset." – John Franz
19. "Eliminate the mindset of can't! Because you can do anything!" – Tony Horton
20. "If you are ready to take your game to the next level, you gotta change that mindset." – Eric Thomas
21. "Your thoughts can easily influence your mindset leading to bad or good decisions." – Wazim Shaw
22. "Embrace the mindset of faith and you will be set free from fear." – Gift Gugu Mon
23. "Whether you think you can or you think you can't, you're right." – Henry Ford
24. "It takes a different mindset to be successful in anything; that's why there's not a lot of super-duper successful people, because it's guys I know who maybe 10 times more talented than me, but they don't work as hard." – Rico Love
25. "Anyone can train to be a gladiator. What marks you out is having the mindset of a champion." – Manu Bennett
26. "Having a clear mental image of our goals will point us in the right direction. Having a strong mindset will help us mold our attitudes, behaviors, expectations and actions." – John Franz
27. "A positive mindset in failure means that failure becomes the greatest teacher available." – Byron Pulsifer
28. "In the fixed mindset, everything is about the outcome. If you fail—or if you're not the best—it's all been wasted. The growth mindset allows people to value what they're doing regardless of the outcome." – Carol S. Dweck
29. "With an abundant mindset and gratitude in heart, incredible events start happening in our life." – Purvi Raniga
30. "Happiness has to do with your mindset, not with outside circumstances." – Steve Maraboli
Also read: Famous Quotes, Motivational Quotes
Quotes That Can Help You Develop a Growth Mindset
31. "I've never known a person who was successful that didn't at first establish a mindset of success. You can't be that which you can't believe." – Byron Pulsifer
32. "The opportunity to develop resilience comes through difficult circumstances that both highlight and challenge existing mindsets." – Devra Davis
33. "While the people with fixed mindsets let their intelligence and talent define them, the growth mindset oriented people know that with hard work and practice, they can be good at anything." – Timo Kiander
34. "To create something exceptional, your mindset must be relentlessly focused on the smallest detail." – Giorgio Armani
35. "Your success is limited by your personal development―what you think you're capable of, what you think you deserve, and the mindsets that hold you back." – Jeffrey Shaw
36. "When you are around people that have the same mindset as you do, it helps encourage you to work towards your goals even more." – Michael Henson
37. "With time, your positive mindset helps to liberate you from the negativity rooted inside you, making you strong enough to stand on your own and put an end to pessimism for once." – Benjamin Smith
38. "Gratitude and humility―are critical in developing a successful mindset." – Paul Brodie
39. "My dad encouraged us to fail. Growing up, he would ask us what we failed at that week. If we didn't have something, he would be disappointed. It changed my mindset at an early age that failure is not the outcome, failure is not trying. Don't be afraid to fail." – Sara Blakely
40. "Quitting is never an option on the road to success. Find the way forward. If you have a positive mindset and are willing to persevere, there is little that is beyond your reach." – Roopleen
41. "The passion for stretching yourself and sticking to it, even when it's not going well, is the hallmark of the growth mindset. This is the mindset that allows people to thrive during some of the most challenging times in their lives." – Carol S. Dweck
42. "A positive, or winning mindset can often mean the difference between success or failure in any endeavor." – Anthony T. Galie
43. "Success is not about being a genius or getting lucky. Success is about how you think of yourself when you look in the mirror. Your mindset will ultimately determine your success rate." – Elijah A. Grant IV
44. "Changing how you view things isn't easy. Throughout our lives, we are told that things are the way they are. At no point are we told that we have the power to change it. Today I am telling you; you have the authority to change your mindset and become more positive." – Robert Norman
45. "I truly believe in positive synergy, that your positive mindset gives you a more hopeful outlook, and belief that you can do something great means you will do something great." – Russell Wilson
Also read: Faith Quotes, Smile Quotes
Meaningful Quotes to Help You Control Your Mindset and Change Your Way of Thinking
46. "Self-esteem is the result, not the cause, of 'success.' Or more accurately, the result of the mindset and the process that led to such 'success.'" – Martin Kaye
47. "It's hard to beat a guy when he's got his mind made up that he's going to win." – Muhammad Ali
48. "Your mindset filters the information you receive and often can prevent you from communicating and listening actively and objectively." – Clive Harman
49. "You will find when you take emotion out of the picture and give the mindset a good reason to do something, it's easy to do it and get on with your life." – Lora Jets
50. "Convince yourself every day that you are worthy of a good life. Let go of stress, breathe. Stay positive, all is well." – Germany Kent
51. "The mind has a powerful way of attracting things that are in harmony with it, good and bad." – Idowu Koyenikan
52. "Besides pride, loyalty, discipline, heart, and mind, confidence is the key to all the locks." – Joe Paterno
53. "History made when mindset changed." – Toba Beta
54. "It's a funny thing about life, once you begin to take note of the things you are grateful for, you begin to lose sight of the things that you lack." – Germany Kent
55. "There are no limitations with what you can have, achieve or be. Any limitations you feel there are, are only in your mind and can be eradicated, should be eradicated. The sky's the limit." – Louise Stapely
56. "Get your mind going in the right direction and you'll get your life going in the right direction." – Joel Osteen
57. "The mind works most effectively when you're telling it what to do rather than what not to do." – Gary Mack
58. "The problem human beings face is not that we aim too high and fail, but that we aim too low and succeed." – Michelangelo
59. "You're in charge of your mind. You can help it grow by using it in the right way." – Carol Dweck
60. "Remember that what you are feeling does not reflect your reality! We cannot always control the thoughts that come into our minds, but we can control the thoughts that we dwell on." – Les Brown
Great Quotes About the Mindset That Separates the Best From the Rest
61. "I try to work on all aspects of my game, whether it be run, pass. I think you can never stop growing, and I definitely take that mindset. You've just got to keep on grinding." – D'Brickashaw Ferguson
62. "You can conquer almost any fear if you will only make up your mind to do so. For remember, fear doesn't exist anywhere except in the mind." – Dale Carnegie
63. "No matter what, people grow. If you choose not to grow, you're staying in a small box with a small mindset. People who win go outside of that box. It's very simple when you look at it." – Kevin Hart
64. "Tools of empowerment―heartset and mindset." – Akosua Dardaine Edwards
65. "We think positive thoughts and we become a positive person." – Andrew Evans
66. "With confidence, you have won before you have started." – Marcus Garvey
67. "Great works are performed, not by strength, but by perseverance." – Samuel Johnson
68. "Sometimes the true mindset of learning creates the reality of uniqueness." – Nishant Tiwari
69. "As we might be overwhelmed by the dictate of a mindset at odds with reality, and cannot get a grip on our unconsciousness, rather than curling up in the hive of uncomfortable expectations, let us cry out and unshackle our free will." – Erik Pevernagie
70. "It's all about reprogramming our minds to focus more on what brings us joy." – Alaric Hutchinson
71. "An undisciplined mind is a wasted one, which will be reflected in the life of the one who possesses such a mind." – Stephen Richards
72. "The mind is just like a muscle―the more you exercise it, the stronger it gets and the more it can expand." – Idowu Koyenikan
73. "As human beings it is our general belief that successful people are special and that they are born destined for greatness. It is just too difficult to comprehend that the main thing that separates those people from us is not anything particularly special; it is simply their mindset and habits." – P. G.Manifold
74. "It is easier for one to take risks and to chase his dreams with a mindset that he has nothing to lose. In this lies the immense passion, the great advantage of avoiding a materialistic, pleasure-filled way of life." – Criss Jami
75. "Everything in your current reality began with your mentality. By controlling your mind, you can control your destiny." – Dean Bokhari
Quotes to Help You Develop a Powerful Mindset in Business and Leadership
76. "Today, you have the opportunity to transcend from a disempowered mindset of existence to an empowered reality of purpose-driven living. Today is a new day that has been handed to you for shaping. You have the tools, now get out there and create a masterpiece." – Steve Maraboli
77. "Policy-makers continue to discover that they cannot solve today's problems with yesterday's mindsets." – Widad Akrawi
78. "A healthy body leads to a healthy mind and a healthy mind is the most important tool you can have as a business owner." – Pooja Agnihotri
79. "It will take a concerted effort, determination, and courage to replenish the soil and to reset humanity's mindset." – Donna Malt
80. "Picture your brain forming new connections as you meet the challenge and learn. Keep on going." – Carol Dweck
81. "If we build a tribe of like-minded people, we never have to be alone again. But it's more than that; together, and I actually mean this, we can change the world." – Shawn Wells
82. "Daily habits that create steady mindsets are vital to be sure the uncontrollable circumstances of business and life don't derail you." – Jeffrey Shaw
83. "Most of the important things in the world have been accomplished by people who have kept on trying when there seemed no hope at all." – Dale Carnegie
84. "Patience, persistence, and perspiration make an unbeatable combination for success." – Napoleon Hill
85. "If your mind is not strong enough to face the challenges that a business may bring, it's very easy to fall in the clutches of despair and anxiety. Meditation can help you take your mental health into your own hands." – Pooja Agnihotri
Mindset Quotes to Guide You to Success
86. "Never let the future disturb you. You will meet it, if you have to, with the same weapons of reason which today arm you against the present." – Marcus Aurelius
87. "Instead of worrying about what you cannot control, shift your energy to what you can create." – Roy T. Bennett
88. "Success is a mindset and not a point in time but an inbuilt combination of character, discipline, behaviors and set of principles that make who the person becomes." – Dr. Lucas D. Shallua
89. "Every day, stand guard at the door of your mind." – Jim Rohn
90. "Change your ordinary mindset to think extraordinary." – Deep Pandey
91. "Life has a tendency to provide a person with what they need in order to grow. Our beliefs, what we value in life, provide the roadmap for the type of life that we experience." – Kilroy J.
92. "While our mindset is besieged by a revolving burst of emotion, our world is ultimately opening up." – Erik Pevernagie
93. "Open the window of your mind. Allow the fresh air, new lights and new truths to enter." – Amit Ray
94. "A positive mindset can build a positive physical and mental structure for an amazing life." – Hormuzd Dossabhoy
95. "Mind is a flexible mirror, adjust it, to see a better world." – Amit Ray
Mindset Quotes on Building Confidence Amidst Life's Challenges
96. "Don't think about what if you fall? Think about what if you fly?" – Amit Kalantri
97. "Self-observation is the first sprout of the awakened mind. It surely leads to certain prosperity." – Gagandeep Kaushal
98. "Always keep in mind that you're not going to compete with the beginners, you're going to compete with the masters." – Pooja Agnihotri
Quotes to Help You Maintain a Positive Mindset
99. "The problem is not the problem. The problem is your attitude about the problem." – Jack Sparrow
100. "The world demands the qualities of youth. Not a time of life, but a state of mind." – Robert F. Kennedy
101. "Failure is common in that it may well knock you to the ground but the real sign of a successful mindset is to get up and have a run at whatever it is you want to achieve again." – Catherine Pulsifer
102. "Every time, the mindset I get when I get on the floor is that I'm the best player on the floor." – Joel Embiid
103. "Not everyone can just jump right into something new and change their mindset at the drop of a hat." – Joseph Taylor
104. "It's kind of fun to do the impossible." – Walt Disney
105. "Your mindset determines how you perceive and connect to the world around you." – Joseph Taylor
106. "Challenges are what make life interesting. Overcoming them is what makes life meaningful." – Joshua Marine
107. "Without the right mindset, there is no chance that anyone can reach their potential." – James Atkinson
108. "I just had that mindset to never settle. That's a credit to my pops, too. He used to say 'the sky's the limit' every time we talked." – DaBaby
109. "If you start with the mindset that you know nothing, you will learn a lot that nobody knew before." – David Maraniss
110. "If ever you think that you're losing control of a situation, just shift your mindset and watch your situation change." – Dr. Amelia Rose
What Kind of Mindset Do You Have?
During this moment of uncertainty, it's challenging to look at things positively. Life is becoming worse, and it is hard to get by.
It's a good thing we have quotes like this to keep us going by instilling hope and positivity. Remember that the ability to control how you think and see the world can help you get through difficult circumstances.
We hope you were able to set your mind on the right path through these mindset quotes. Let these quotes help you build a growth mindset, and don't forget to share them with your loved ones and friends so they, too, can strive for development!
Which of these mindset quotes resonated with you the most? Please, let us know in the comments area below.