These father and son quotes will guide you in nurturing and building a stronger relationship that will last for a lifetime.
The father and son bond is an essential part of growing up.
The love and lessons that the relationship provides prepare innocent and small boys to grow up into strong and kind men.
But, there will be times when fathers and sons do not value their influence on each other. Like sons, dads also learn a lot and change because of the relationship, so they must appreciate its value.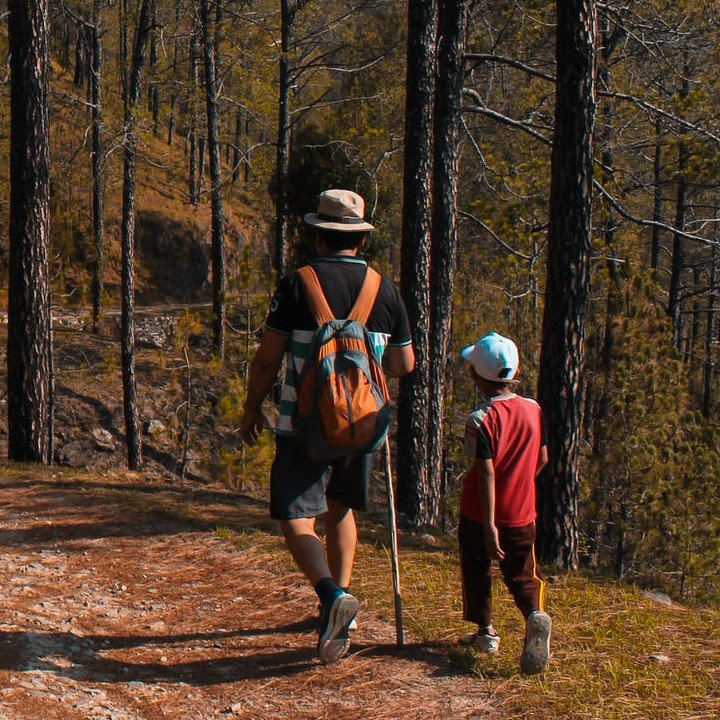 Continue reading below to let these father and son quotes guide you in making your bond stronger than ever. 
Let's get started.
And make sure to check out these son quotes and new dad quotes.
Best Father and Son Quotes
1. "With sons and fathers, there's an inexplicable connection and imprint that your father leaves on you." – Brad Pitt
2. "It is not flesh and blood, but the heart which makes us fathers and sons." – Friedrich Schiller
3. "A man knows when he is growing old because he begins to look like his father." – Gabriel Garcia Marquez
4. "When you teach your son, you teach your son's son." – The Talmud
5. "A son needs his father at every situation he faces in present, and a father needs his son at every situation he faces for his son in past." – Nishan Panwar
6. "Until you have a son of your own, you will never know the joy, the love beyond feeling that resonates in the heart of a father as he looks upon his son." – Kent Nerburn
7. "A son does not pass judgment on his father, but he is his father's conscience." – Anonymous
8. "When a father gives to his son, both laugh. When a son gives to his father, both cry." – William Shakespeare
9. "For thousands of years, father and son have stretched wistful hands across the canyon of time." – Alan Valentine
10. "Every son quotes his father, in words and in deeds." – Terri Guillemets
11. "I'm struck by a few things today, most of which is the power of the invisible role model. Perhaps, it's the newfound clarity I have as a father, knowing that my son will always be watching what I do, mimicking my behavior. One day, maybe even following in my footsteps." – Prince Harry
12. "No love is greater than that of a father for his son." – Dan Brown
13. "A father is a man who expects his son to be as good a man as he meant to be." – Frank Clark
14. "Becoming a father increases your capacity for love and your level of patience. It opens up another door in a person, a door which you may not even have known was there. That's what I feel with my son. There's suddenly another level of love that expands. My son is my greatest joy, out of everything in my life." – Kyle MacLachlan
15. "As a father, you want the best for your son, quite obviously. You want to create the best memories for your son." – Bill Goldberg
Heartwarming Father and Son Quotes
16. "It does not matter how tall a son grows. He will still always look up to his dad." – Anonymous
17. "Nothing is dearer to an aging father than his son." – Anonymous
18. "A son may outgrow a father's lap, but he will never outgrow his heart." – Anonymous
19. "Behind every young boy who believes in himself is a father who believed in him first." – Anonymous
20. "It is the duty of the father to give his sons a good chance." – Anonymous
21. "Dads and sons are two sides of the same coin. They complement each other in ways only fate understands." – Anonymous
22. "A son can change his father from being selfish to selfless." – Anonymous
23. "Every son's first superhero is his father, and it was the same for me. For me, he was Superman and Batman combined." – Tiger Shroff
24. "A boy's first hero is his dad." – Anonymous
25. "Lately, all my friends are worried that they're turning into their father. I'm worried that I'm not." – Dan Zevin
26. "Sons and fathers have their own little universe of trust, privacy, and love, thus creating one of the strongest bonds that ever existed." – Anonymous
27. "Sons always identify fathers as their greatest heroes, while fathers always look at sons as their biggest accomplishment." – Anonymous
28. "There is this special connection between a father and his son. It may be barely visible, but it's there. It's always like that with sons and fathers." – Anonymous
29. "My father gave me the greatest gift anyone could give another person. He believed in me." – Jim Valvano
30. "The bond between a father and a son is a true friendship no one can ever break." – Anonymous
Also read: Parents Quotes, Single Dad Quotes
Meaningful Father and Son Quotes to Strengthen Your Relationship
31. "One dad is enough to love a hundred sons, but a hundred sons are still not enough to love one father." – Anonymous
32. "A small boy becomes a big man through the influence of a big man who cares about the small boy." – Anonymous
33. "He promised us that everything would be okay. I was a child, but I knew that everything would not be okay. That did not make my father a liar. It made him my father." – Jonathan Safran Foer
34. "The fact that my relationship with my son is so good makes me forgiving of my father and also appreciative." – Anthony Kiedis
35. "My dad taught me everything I know. Unfortunately, he didn't teach me everything he knows." – Al Unser
36. "What was silent in the father speaks in the son, and often I found in the son the unveiled secret of the father." – Friedrich Nietzsche
37. "Becoming a dad means you have to be a role model for your son and be someone he can look up to." – Wayne Rooney
38. "A dad is a person who wants to catch you before you fall, but he instead picks you up and lets you try again." – Anonymous
39. "I hope I can be as good of a father to my son as my dad was to me." – Calvin Johnson
40. "The older a man gets, the more he values everything his dad gave him." – Anonymous
41. "The son can do nothing by himself. He can do only what he sees his father doing because whatever the father does, the son also does." – Anonymous
42. "We think our father's fools, so wise we grow. Our wiser sons, no doubt will think us so." – Alexander Pope
43. "A father and son are bonded for life. Even when a father never says it out loud, the son knows that there is love. They know, without needing any words to express their feelings." – Anonymous
44. "Being a father means a lot of things, but most importantly, it means to be a good role model for your son." – Anonymous
45. "What goes on between a father and a son, which is usually such a private matter, is that they are able to be honest with each other." – Lee Grant
Also read: Family Quotes, Wife Quotes
Emotional Father and Son Quotes on Your Unique Bond
46. "A son is a promise that a father will always have a friend." – Anonymous
47. "Good fathers make good sons." – Anonymous
48. "A father knows that his son will also become a father one day and starts equipping him with the examples and knowledge needed very early on. Such is the care that a father has for his son." – Anonymous
49. "If you want a son to grow up into a man you can be proud of, be a man he can be proud of." – Anonymous
50. "The imprint of a dad will forever remain on his son." – Anonymous
51. "Every father should remember that one day, his son will follow his example instead of his advice." – Charles F. Kettering
52. "A son often confides in his father when he faces difficulties or challenges in life. A father always understands and never judges." – Anonymous
53. "What a father means to his son growing up will become what a son means to his father growing old." – Anonymous
54. "A father's job is to love his son enough to let him fly, and strong enough to let him become his own person." – Anonymous
55. "Thank heaven for the special relationship between fathers and sons. It is blessed from above." – Anonymous
56. "One of the greatest tragedies of life is that fathers and sons can love each other deeply without ever getting to know each other." – Anonymous
57. "The moments a son gives back to his dad is the moment of love, gratitude, and happy tears." – Anonymous
58. "By the time a man realizes that maybe, his father was right, he usually has a son who thinks he's wrong." – Charles Wadsworth
59. "The father who does not teach his son his duties is equally guilty with the son who neglects them." – Confucius
60. "A father and son relationship is a beautiful one. When young, the father acts as a teacher. When older, the father is like a mentor. Older still, and they are best friends." – Anonymous
Also read: Inspirational Quotes, Love Quotes
Quotes and Messages From a Son to His Father That Are Full of Love
61. "Father, I will always be the same boy who stood by the sea and watched you tower over me. Now that I'm older, I want to be the same as you." – Anonymous
62. "Dad, you are my superman, which makes me your super son!" – Anonymous
63. "I wanted you to know what a true blessing having a wonderful father like you is! Thank you for all that you do. I am so proud to be your son!" – Anonymous
64. "I know being a dad of sons is hard, but you make it look effortless." – Anonymous
65. "Thank you for teaching me how to love myself, to dream my dream, and to pursue what sets my heart on fire. You are the best role model a son could ever have!" – Anonymous
66. "Anyone can be a father. It takes someone special to be a dad, and that's why I call you dad because you are so special to me. You taught me the game, and you taught me how to play it right." – Wade Boggs
Also read: Children Quotes, Brother Quotes
Quotes and Messages From a Father to His Son That Will Tug at Your Heartstrings
67. "Even if I see my own reflection in you, I also see the man I always wanted to become. Thank you for always making me proud. I love you, son!" – Anonymous
68. "I will be right behind you, son. I will always be near. I'll follow you where you want to go. You have nothing to fear." – Anonymous
69. "Son, I closed my eyes for a moment, and suddenly, a man stood where a boy used to be. I may not carry you in my arms, but I will always keep you in my heart. You have given me so many reasons to be proud of the man you have become, but the proudest moment for me is telling others that you are my son." – Anonymous
70. "To my son, if you need me, call me. I don't care if I'm sleeping, if I'm having my own problems, or if I'm angry at you. If you need me and if you need to talk to me, your dad will always be there for you. No matter how big or how small your problem is, I'll be there!" – Anonymous
71. "You are a son to me that to my father I could never be." – Anonymous
72. "Son, there are times a man has to do things he doesn't like to, in order to protect his family." – Ralph Moody
Also read: Father's Day Quotes
Short but Sweet Father and Son Quotes
73. "Tiger father begets tiger son." – Chinese Proverb
74. "The love between a father and son is forever." – Anonymous
75. "A dad will always need his son, no matter how old he is." – Anonymous
76. "Old as he was, he still missed his daddy sometimes." – Anonymous
77. "The love between a dad and his son is unbreakable." – Anonymous
78. "Perhaps, host and guest is really the happiest relation for father and son." – Anonymous
79. "It's hard to kill that father-son bond." – Anonymous
80. "Not every father gets a chance to start his son off in his own footsteps." – Alan Ladd
81. "Like father like son. Every good tree maketh good fruits." – William Langland
82. "A father may only be a dad for a little while, but he is a son's hero forever." – Anonymous
Insightful Dad and Son Quotes
83. "A father will always have his son's love and respect if he knows how to love and protect his family!" – Anonymous
84. "Do I want to be a hero to my son? No. I would like to be a very real human being. That's hard enough." – Robert Downey Jr.
85. "Sons aspire to either become their father or vie to be his exact opposite." – Kilroy J. Oldster
86. "Sons have always a rebellious wish to be disillusioned by that which charmed their fathers." – Aldous Huxley
87. "A man's desire for a son is usually nothing but the wish to duplicate himself in order that such a remarkable pattern may not be lost to the world." – Helen Rowland
88. "Fathers and sons may not have the exact same interest, but they do look out for each other. They have this unique way of showing their love for each other without saying anything out loud." – Anonymous
89. "Like so much between fathers and sons, playing catch was tender and tense at the same time." – Donald Hall
90. "When you're young, you think your dad is superman. Then you grow up, and you realize he's just a regular guy who wears a cape." – Dave Attell
91. "A father's need to be right. A son's need to be independent. A father's acceptance of his son as a man can be as difficult as a son's acceptance that his father is just a man. A father's need to be a mentor. A son's need to be thought of as an equal. All these things make it difficult for fathers and sons to really get past their role expectations and really get to know each other and accept each other as they really are." – Anonymous
92. "A father will always be a son's first role model, and a son is a reflection of the father's traits and personality. This is the bond that no other people may have." – Anonymous
93. "Fathers and sons arrive at that relationship only by claiming that relationship, that is by paying for it. If the relationship of father to son could really be reduced to biology, the whole earth would blaze with the glory of fathers and sons." – James Baldwin
94. "One is worthy as a son when he removes all his father's troubles." – Anonymous
95. "A dad can raise a son, but it takes a true father to make his son into a good man." – Anonymous
96. "A wise son listens to his father's advice and grows up to be a better man than his father." – Anonymous
97. "There is no denying that a son can be raised to be a great man only if he has a strong and wise father to lead the way." – Anonymous
Quotes That Describe the Relationship Between a Father and His Son
98. "I never want my son to mess up and think, 'Dad is going to kill me.' I want his first thought to be 'I need to call my dad.'" – Anonymous
99. "Respect for women is one of the greatest gifts a father can show to a son." – Anonymous
100. "Often, a father is proud when his son looks or behaves just like him. It's unclear why exactly fathers are like this, but perhaps, it's a sign that they know they have done well in raising their sons." – Anonymous
101. "When my dad did not hold my hand, he had my back." – Anonymous
102. "A father knows how to teach his son the values of life, thus forming one of the most powerful bonds in the world." – Anonymous
103. "The best thing that a father can give to his son is his time." – Anonymous
104. "I love my son more than anything. I'll do whatever it takes to make sure he is raised the right way." – Anonymous
105. "A father teaches his son to be a man, and a son teaches a father love, care, and what it means to be a father. It's a mutual relationship where one will always learn from the other." – Anonymous
106. "Fathers and sons love each other plenty, just like a mom and her children. Yet you never see them proclaiming it. It's an unspoken pact, like a friendship just waiting to bloom." – Anonymous
107. "Fathers and sons are much more considerate of one another than mothers and daughters." – Friedrich Nietzsche
108. "My father was my teacher. But most importantly he was a great dad." – Beau Bridges
109. "Forget Batman, when I really thought about what I wanted to be when I grew up, I wanted to be my dad." – Paul Asay
110. "My father didn't tell me how to live. He lived, and let me watch him do it." – Clarence Budington Kelland
111. "A father and a son will always bond over sports, their love of food, and most importantly, their family!" – Anonymous
112. "Sons will always look up to their fathers, learning the best life lessons through their eyes and experiences." – Anonymous
Hilarious Father and Son Quotes to Laugh About
113. "My dad asked me, 'Son, have I been a good father?' I said, 'Dad, you're the best. Why do you ask?' He said, 'I wanted to make sure the way you turned out is your fault.'" – Anonymous
114. "Dad, I have a secret. You're the best parent. Please don't tell mom." – Anonymous
115. "All fathers are intimidating because they're fathers. Once a man has children, his attitude is, 'To hell with the world. I can make my own people. I'll eat whatever I want. I'll wear whatever I want. And I'll create whoever I want.'" – Jerry Seinfeld
116. "My dad taught me everything he knows. That's why I know nothing." – Anonymous
117. "When I was a kid, I said to my father one afternoon, 'Daddy, will you take me to the zoo?' He answered, 'If the zoo wants you, let them come and get you.'" – Jerry Lewis
More Dad and Son Quotes
118. "My dad is my best friend, my father, and my boss." – David Lauren
119. "As a father, my first priority is to help my sons set and attain personal goals so they will develop self-confidence and individual strength." – Alan Thicke
120. "A good father believes that he does wisely to encourage enterprise, productive skill, prudent self-denial, and judicious expenditure on the part of his son." – William Graham Summer
121. "I think that my strong determination for justice comes from the very strong, dynamic personality of my father. I have rarely met a person more fearless and courageous than my father. He is a man of real integrity, deeply committed to moral and ethical principles. If I had a problem, I could always call Daddy." – Martin Luther King Jr.
122. "It's a rare thing when a father and son can share the same experience. My father and I have seen all 19 Bond films together, two or three times." – Anonymous
123. "My father taught me a good lesson. Don't get too low when things go wrong, and don't get too high when things are good." – Robert Parish
124. "My father used to say that it's never too late to do anything you wanted to do. And he said, 'You never know what you can accomplish until you try.'" – Michael Jordan
125. "We became friends, not just father, and son." – Richard Bergeron
126. "I am a family man, and my most important role is a father to my son." – Ed Skrein
127. "When I was a boy of 14, my father was so ignorant, I could hardly stand to have the old man around. But when I got to be 21, I was astonished at how much the old man had learned in seven years." – Mark Twain
128. "One night, a father overheard his son pray, 'Dear God, make me the kind of man my daddy is.' Later that night, the father prayed, 'Dear God, make me the kind of man my son wants me to be.'" – Anonymous
129. "If there is any immortality to be had among us human beings, it is certainly only in the love that we leave behind. Fathers like mine don't ever die." – Leo Buscaglia
130. "I love to wear my daddy's shoes. Though my feet are small when they are in my daddy's shoes, I feel 10 feet tall. Someday, I'll grow to fill them. I only hope to be as fine a man and great dad as my daddy is to me." – Anonymous
Did These Quotes Guide You to Work on Your Father and Son Relationship?
Fathers play an essential role in shaping their sons' lives by spending time with them and creating serious conversations. Since life is tough, boys need older men to guide them in being stronger and conquering any battle they have.
Above all, a son needs his father's love. Through the warmth and protection that dads bring, boys find a friend and a lifetime mentor. It may evolve through the years, but the presence of fathers will always be constant and comforting.
We hope that these quotes were able to inspire you to build a stronger relationship with your father or son. After all, it is one of the most important things that we should focus on and tend to.
Which father and son quote is your favorite? Will you share these quotes with your father or son? Don't forget to leave a comment below!