Living life with envy will be detrimental to your soul, so to prevent you from doing that, we've compiled these jealousy quotes!
Jealousy is defined as a complex emotion ranging from humiliation to rage. Many people experience it daily, but few stop to analyze and consider how it affects their outlook on life.
That's why, if you tend to feel envious of what others have and think that you're constantly lacking something, these quotes will make you feel like you're enough. Make sure to add this to your must-reads now!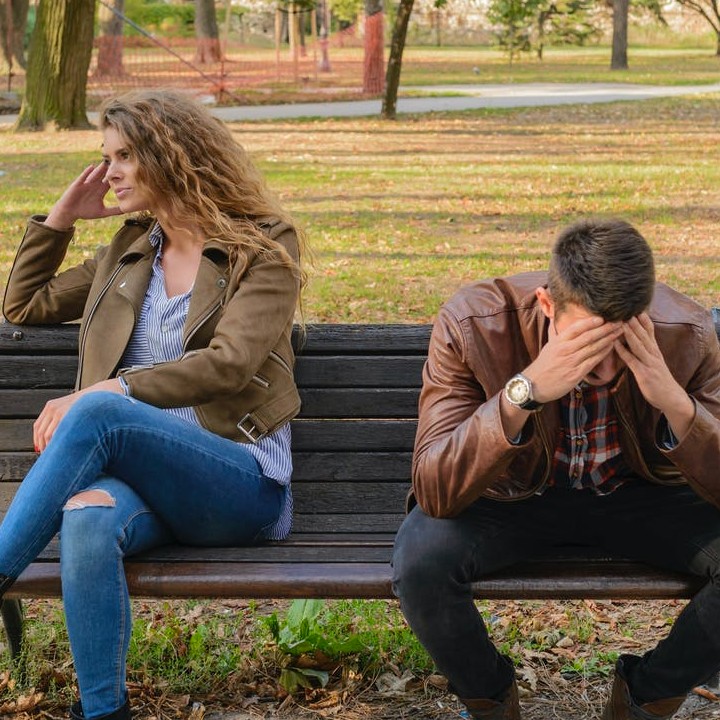 Let's get started.
And don't forget to check out these love quotes and relationship quotes.
Best Jealousy Quotes
1. "Jealousy is a disease, love is a healthy condition. The immature mind often mistakes one for the other, or assumes that the greater the love, the greater the jealousy—in fact, they are almost incompatible; one emotion hardly leaves room for the other." – Robert A. Heinlein
2. "Jealousy is the only vice that gives no pleasure." – Patrick Henry
3. "Jealousy in romance is like salt in food. A little can enhance the savor, but too much can spoil the pleasure and, under certain circumstances, can be life-threatening." – Maya Angelou
4. "A competent and self-confident person is incapable of jealousy in anything." – Robert A Heinlein
5. "Jealousy is when you count someone else's blessings instead of your own." – Amanda Metcalf
6. "Jealousy isn't a pleasant quality, but if it isn't overdone—and if it's combined with modesty—apart from its inconvenience there's even something touching about it." – Milan Kundera
7. "Jealousy is never satisfied with anything short of an omniscience that would detect the subtlest fold of the heart." – George Eliot
8. "Jealousy is the cousin of greed. We seem to focus on what we want and lose sight of what we really need." – Anonymous
9. "Jealousy is no more than feeling alone against smiling enemies." – Anonymous
10. "Anger, resentment, and jealousy doesn't change the heart of others—it only changes yours." – Shannon Alder
Famous Jealousy Quotes
11. "Transform jealousy to admiration, and what you admire will become part of your life." – Yoko Ono
12. "Never hate jealous people. They are jealous because they think you are better than them." – Paulo Coelho
13. "Anger, hatred, and jealousy never solve problems, only affection, concern, and respect can do that." – Dalai Lama
14. "Nothing brings on jealousy like laughter." – Françoise Sagan
15. "Jealousy is a miserable feeling. It means you aspire to something that you cannot have." – Sophia Loren
16. "Never waste jealousy on a real man: it is the imaginary man that supplants us all in the long run." – George Bernard Shaw
17. "If you find happiness, people may be jealous. Be happy anyway." – Mother Teresa
18. "The jealous are troublesome to others, but a torment to themselves." – William Penn
19. "Everybody pities the weak; jealousy you have to earn." – Arnold Schwarzenegger
20. "Noble hearts are neither jealous nor afraid because jealousy spells doubt and fear spells pettiness." – Honoré de Balzac
Also read: Famous Quotes
Jealousy Quotes That'll Inspire You
21. "Jealousy is always there, but you can avoid it if you have plenty of trust and love. Always keep in mind that there are more beautiful things life is offering us than all these negativities in life." – Anonymous
22. "I would love to live in a world that is free of jealousy and whose people can be trusted." – Anonymous
23. "By holding a grudge or allowing spite to rule your day, you are placing emphasis on the negative and not on the positive. Get rid of envy or jealousy." – Byron Pulsifer
24. "Jealousy only eats up your beauty, have more faith in yourself, you got something that other people don't." – Anonymous
25. "Jealousy has a lot to do with how people see themselves. If you are comparing yourself to someone, stop doing this. You were created to be exactly who you are." – Stanley Steel
Also read: Inspirational Quotes
Jealousy Quotes for People in Romantic Relationships
26. "It is not love that is blind, but jealousy." – Lawrence Durrell
27. "Pure love allows no room for jealousy." – James Lendall Basford
28. "In jealousy, there is more self-love than love." – François de la Rochefoucauld
29. "Jealousy and love are sisters." – Russian Proverb
30. "He that is not jealous is not in love." – Saint Augustine
31. "Jealousy is always born with love, but does not always die with it." – François de la Rochefoucauld
32. "Jealousy would be far less torturous if we understood that love is a passion entirely unrelated to our merits." – Paul Eldridge
33. "Jealousy hyphenates love in all the wrong places." – Terri Guillemets
34. "Jealousy is love in competition." – Toba Beta
35. "Jealousy is that pain which a man feels from the apprehension that he is not equally beloved by the person whom he entirely loves." – Joseph Addison
36. "Jealousy is not a barometer by which the depth of love can be read, it merely records the degree of the lover's insecurity." – Margaret Mead
37. "Jealousy is a strong emotion that can break any strong relationship." – Anonymous
38. "In a relationship, jealousy is needed in the right amount. Not too much, and the lesser, the better." – Anonymous
39. "Suspicion and jealousy are the death knell of any relationship." – Anonymous
40. "Jealousy springs more from a love of self than from love of another." – François de la Rochefoucauld
Also read: Love Quotes for Her, Love Quotes for Him
Jealousy Quotes to Make You Think
41. "To cure jealousy is to see it for what it is, a dissatisfaction with self." – Joan Didion
42. "Jealousy is nothing more than a fear of abandonment." – Anonymous
43. "Aside from the real threats that are often present in our lives, there are other triggers of jealousy that are rooted in our own problems." – Ryan Help
44. "There is never jealousy where there is not strong regard." – Washington Irving
45. "Jealousy is a form of hatred built upon security." – Anonymous
46. "Jealousy is the fear or apprehension of superiority: envy our uneasiness under it." – William Shenstone
47. "Like hatred, jealousy is forbidden by the laws of life because it is essentially destructive." – Anonymous
48. "Jealousy is, I think, the worst of all faults because it makes a victim of both parties." – Anonymous
49. "Jealousy arises because of a lack of confidence in oneself." – Anonymous
50. "Jealousy is not good for your health. It is a silent killer, an untreatable disease." – Anonymous
Quotes About Being Jealous That Everyone Can Relate To
51. "Being jealous is normal, but when you have too much jealousy, then there must be something wrong. Jealousy is not good for your body and mind." – Anonymous 
52. "I don't ever remember being particularly jealous of anybody, because I figured if I can't do it myself, I don't deserve to get it." – Clyde Tombaugh
53. "What sort of love is permeated by jealousy? You are jealous because you are unaware that everything you need is inside you." – Peter Deunov
54. "When a person always has something negative to say, they are secretly jealous of you." – Anonymous
55. "People can do all kinds of things that maybe aren't wise in hindsight because of jealousy." – Kristin Bauer van Straten
56. "Humans are suspicious and jealous creatures. When they see something perfect, they want to find a flaw." – Gosho Aoyama
57. "Insecure people only eclipse your sun because they're jealous of your daylight and tired of their dark, starless nights." – Shannon L. Alder
58. "You cannot tell your mind what to feel and not to feel when you are jealous. It is like a poison that will slowly kill you." – Anonymous
59. "People only rain on your parade because they're jealous of your sun and tired of their shade." – Anonymous
60. "I hope everybody understands why someone is jealous of something. It is because jealous people feel threatened that someone might take away what belongs to them." – Anonymous
More Jealousy Quotes to Keep You Entertained
61. "Jealousy is simply and clearly the fear that you do not have value. Jealousy scans for evidence to prove the point—that others will be preferred and rewarded more than you." – Jennifer James
62. "Jealousy is the great exaggerator." – Johann Christoph Friedrich von Schiller
63. "Jealousy lives upon doubts. It becomes madness or ceases entirely as soon as we pass from doubt to certainty." – François de la Rochefoucauld
64. "Jealousy is the dragon in paradise; the hell of heaven; and the most bitter of the emotions because it is associated with the sweetest." – R. Orage
65. "Jealousy is one of the wickedest of all passions. It is that which has been the most fruitful mother of tragedies, murders, and wars. But reprehensible though it is, jealousy is almost rather to be pitied than blamed—its first victims are those who harbor the feeling." – Arthur Lynch
66. "Jealousy injures us with the dagger of self-doubt." – Terri Guillemets
67. "Don't waste time on jealousy. Sometimes you're ahead, sometimes you're behind." – Mary Schmich
68. "The jealous bring down the curse they fear upon their own heads." – Dorothy Dix
69. "Jealousy is the jaundice of the soul." – John Dryden
70. "Jealousy is the tribute mediocrity pays to genius." – Fulton J. Sheen
How Did You Deal With Your Jealousy?
People deal with jealousy all the time. They may experience it from their partner, friends, family, coworkers, or others. Most of the time, there's really nothing to be envious about, but because of their low self-esteem and poor self-image, they get sucked into this routine of wanting what they don't currently have.
Jealousy starts off as a slightly annoying feeling, like a soft voice whispering into your ear, but it can grow bigger and bigger. People say it's a normal feeling for people to have; however, it is a problematic emotion that needs to be flushed out of your system. It serves no purpose and is the root cause of conflicts between individuals or groups.
Yes, we can be jealous at times, but don't let it steal the happiness that awaits us. Remember to let go of envy and jealousy and start moving forward with your life. With that, we hope these quotes were able to shed some light on the effects of jealousy and how to overcome it.
Which quotes piqued your interest? Please, leave a comment down below.