Allow these meditation quotes to help you maintain a focused, healthy, and positive attitude.
Meditation is a technique for calming the mind's constant activity to experience inner peace and calmness.
Through meditation, we're able to clear our minds of the thoughts causing us stress. With its help, we have the potential to improve both our physical and emotional well-being.
So, if you want to awaken a higher consciousness within yourself, read through our collection below.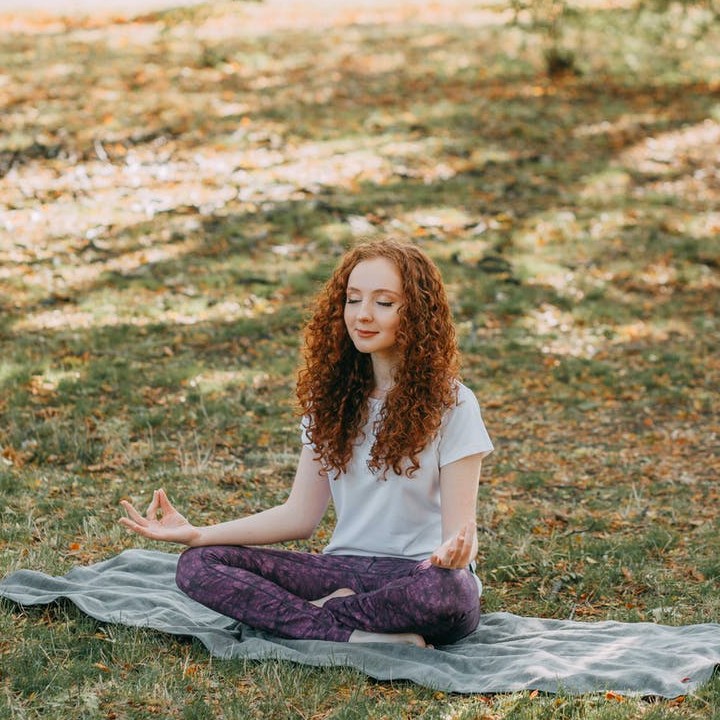 We're optimistic that it'll inspire you to seek clarity and serenity in your daily life!
Start reading here.
And make sure to check out these mindfulness quotes and calm quotes.
Best Meditation Quotes
1. "Meditation is a process of lightening up, of trusting the basic goodness of what we have and who we are, and of realizing that any wisdom that exists, exists in what we already have." – Pema Chodron
2. "Meditation will not carry you to another world, but it will reveal the most profound and awesome dimensions of the world in which you already live." – Zen Master Hsing Yun
3. "We inhale and breathe in the moment that is becoming. In doing so, we welcome the person we are becoming. We repeat the process. This is meditation. This is renewal. This is life." – Lama Surya Das
4. "Meditation is not about stopping thoughts, but recognizing that we are more than our thoughts and our feelings." – Arianna Huffington
5. "Meditation nourishes the mind in the same way that food nourishes the body." – Anonymous
6. "Meditation is like a gym in which you develop the powerful mental muscles of calm and insight." – Ajahn Brahm
7. "Meditation is the discovery that the point of life is always arrived at in the immediate moment." – Alan Watts
8. "Suffering is due to our disconnection with the inner soul. Meditation is establishing that connection." – Amit Ray
9. "Meditation provides a way of learning how to let go. As we sit, the self we've been trying to construct and make into a nice, neat package continues to unravel." – John Welwood
10. "Meditation is not spacing-out or running away. In fact, it is being totally honest with ourselves." – Kathleen McDonald
Meditation Quotes to Help You Live a Better Life
11. "Meditation and concentration are the way to a life of serenity." – Baba Ram Dass
12. "The heart of meditation is taking ourselves a little less seriously." – Anonymous
13. "Meditate, visualize, and create your own reality and the universe will simply reflect back to you." – Amit Ray
14. "Meditation brings wisdom; lack of meditation leaves ignorance. Know well what leads you forward and what holds you back, and choose the path that leads to wisdom." – Buddha
15. "The things that trouble our spirits are within us already. In meditation, we must face them, accept them, and set them aside one by one." – Cristopher L. Bennett
16. "The gift of learning to meditate is the greatest gift you can give yourself in this lifetime." – Sogyal Rinpoche
17. "Meditation does not answer the questions of the mind, but it dissolves the very mind which creates many questions and confusion in our life." – Anonymous
18. "Meditation and life are not separate. Meditation simply helps us to see and understand life more clearly." – Anonymous
19. "Meditation allows us to directly participate in our lives instead of living life as an afterthought." – Stephen Levine
20. "If you meditate regularly, even when you don't feel like it, you will make great gains, for it will allow you to see how your thoughts impose limits on you." – Ram Dass
Also read: Positive Quotes, Inspirational Quotes
Short Meditation Quotes
21. "The act of meditation is being spacious." – Sogyal Rinpoche
22. "The thing about meditation is you become more and more you." – David Lynch
23. "Meditation is hanging out with your soul." – Rachel Ritlop
24. "Meditation is a lifelong gift. It's something you can call on at any time." – Paul McCartney
25. "Meditation applies the brakes to the mind." – Rama Maharshi
26. "Meditation is bringing the mind home." – Sogyal Rinpoche
27. "Meditation is not evasion, it is a serene encounter with reality." – Thich Nhat Hanh
28. "Through meditation, the higher self is experienced." – Bhagavad Gita
29. "The best meditation is effortless. The best meditation is a gentle awareness." – Maxime Lagacé
30. "Meditation is the signpost directing the steps to the main highway of realization." – Guy Bogart
Also read: Short Quotes, Balance Quotes
Meditation Quotes for Your Mental Health
31. "Meditation is choosing not to engage in the drama of the mind but elevating the mind to its highest potential." – Amit Ray
32. "Meditation teaches us to cure what need not be endured and endure what cannot be cured." – Anonymous
33. "Meditation is not about feeling a certain way. It's about feeling the way you feel." – Dan Harris
34. "The goal of meditation is not to get rid of thoughts or emotions. The goal is to become more aware of your thoughts and emotions and learn how to move through them without getting stuck." – Dr. P Goldin
35. "Meditation stills the wandering mind and establishes us forever in a state of peace." – Muktananda
36. "Meditation means letting go of our baggage, letting go of all the pre-rehearsed stories and inner-dialogue that we've grown so attached to." – Andy Puddicombe
37. "If you have time to breathe, you have time to meditate. You breathe when you walk. You breathe when you stand. You breathe when you lie down." – Ajahn Amaro
38. "The mind is definitely something that can be transformed, and meditation is a means to transform it." – Dalai Lama
39. "There are no mistakes in meditation. There is only the process of learning how to approach the practice and discovering what habits or actions to let go of. This journey is unique for us all." – Andy Puddicombe 
40. "Meditation is not about having yet another new strategy of self-help plan, but rather providing a framework in which to see yourself more clearly." – Andy Puddicombe
Also read: Mental Health Quotes, Karma Quotes
More Meditation Quotes That You'll Enjoy
41. "Meditation is the secret of all growth in spiritual life and knowledge." – James Allen
42. "Meditation is a vital way to purify and quiet the mind, thus rejuvenating the body." – Deepak Chopra
43. "Meditation is a way for nourishing and blossoming the divinity within you." – Amit Ray
44. "With meditation, you become a sensitized superhero, completely in control, with endless possibilities at your fingertips." – Tara Stiles
45. "When meditation is mastered, the mind is unwavering like the flame of a candle in a windless place." – Bhagavad Gita
46. "Meditation is not a means to an end. It is both the means and the end." – Jiddu Krishnamurti
47. "Meditation practice isn't about trying to throw ourselves away and become something better, it's about befriending who we are." – Ani Pema Chodron
48. "Meditation is intermittent fasting for the mind. Too much sugar leads to a heavy body, and too many distractions lead to a heavy mind. Time spent undistracted and alone, in self-examination, journaling, meditation, resolves the unresolved and takes us from mentally fat to fit." – Naval Ravikant
49. "The spirit of meditation is the combating against the weight of one's feelings." – Hakuin Ekaku
50. "Meditation is not something that should be done in a particular position at a particular time. It is an awareness and an attitude that must persist through the day." – Annamalai Swami
How Often Do You Meditate?
When life gets too much for you and you need to take a break, meditation is the answer. At any time and from any place, this activity will assist you in finding yourself in the midst of the chaos.
Having the right attitude will also help you tremendously. If you are optimistic and really believe in the power of meditation, you are more likely to achieve significant and lasting results.
Some studies have also shown that regular meditation can alleviate anxiety to slow the aging process. With that, it's clear that meditation will significantly improve our way of life.
So, what are you holding out for? After reading this collection, find a place to relax and meditate!
Which quotes are your favorites? We'd love to hear from you, so make sure you join the discussion below!